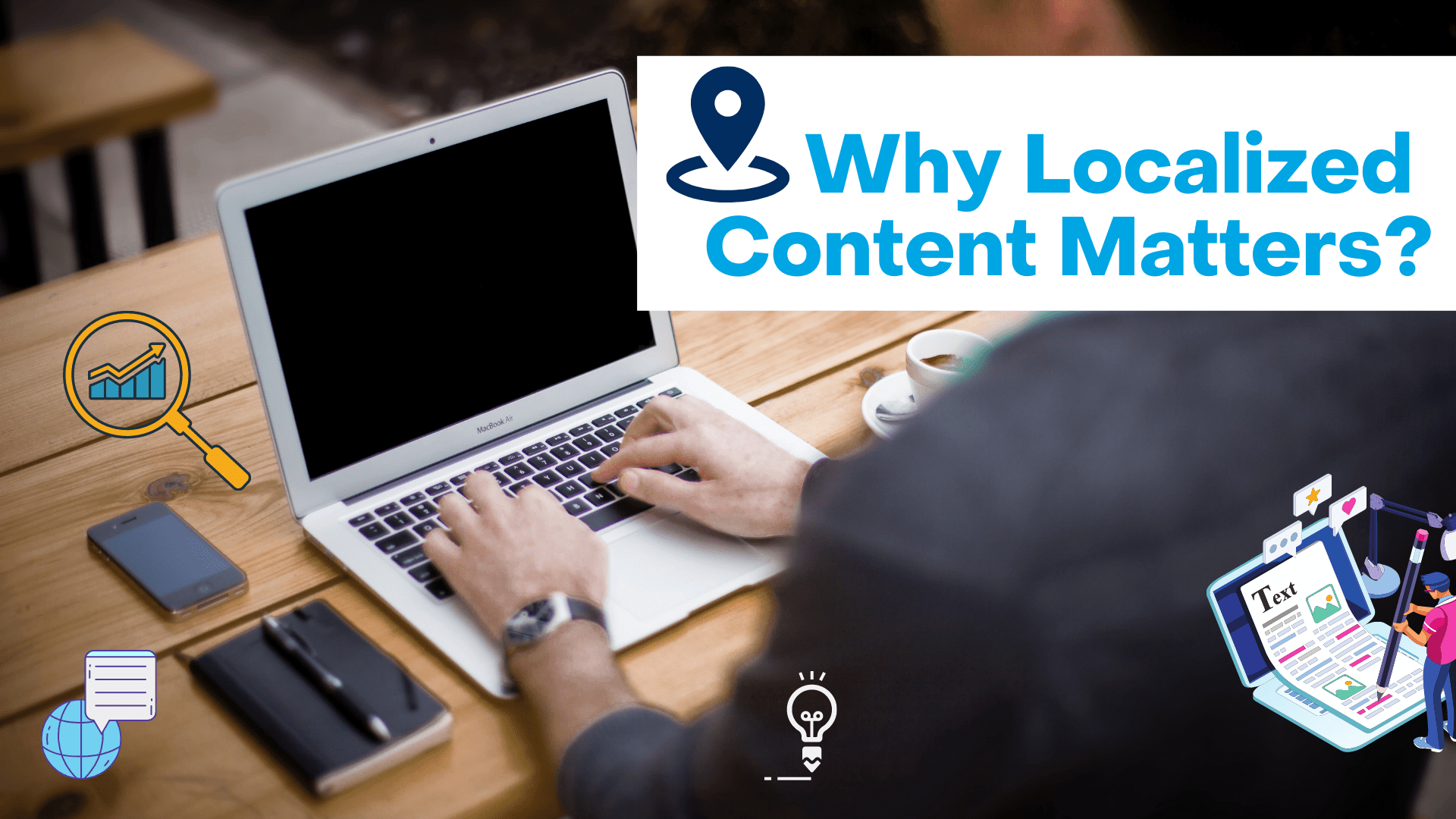 February 4, 2022
Why Content Localization Matters?
Are you expanding your business to reach new customers?
If your company is looking to expand internationally, content localization is essential.
While the answer will vary depending on the business, there are still obvious proof points to assist you to establish the business value of translation and developing a sound localization strategy for your company.
Especially in this new digital-first era, content localization may generate relevance in the eyes of each market's consumers. It also strengthens links of engagement and brand loyalty, which are crucial during times of disruption and normality. However, for maximum impact, a content localization strategy must include more than just translation. Providing authentic, resonant relevance to each market and its consumers necessitates hyperlocal execution on multiple fronts, from the technical to the cultural.
Saying that content is king is no longer adequate. The delivery of a customized message that efficiently meets the needs of local consumers is referred to as localized internet content. If you want to promote your brand and attract potential clients, you should employ a localized strategy rather than a one-size-fits-all approach to web marketing.
But don't be concerned. Localized internet content is not as difficult as it appears. If you provide items or services in a certain geographic area, chances are you've previously used it in your marketing to provide relevant information to your customers.
What is Content Localization?
Localization is the process of matching your material to a customer's cultural expectations. It extends the concept of context beyond simply translating words. Localization, at its foundation, helps your customers engage with your brand on a deeper level and increases their likelihood of purchasing. It may also involve picture or color changes, formatting, UI or design changes, and even payment methods, to mention a few.
The process of adjusting existing content to the cultural expectations of the client whose territory you want to address is known as content localization.
It may appear that translation is sufficient for localization. Everywhere you go, people are the same. The translation is insufficient. You must consider every element, from the uniqueness of the language and cultural values to the attitude in general.
Localization holds significant power. It can help your company get a competitive advantage, expand your market, avoid liability, and develop a strong global brand. So, let's look at how you can keep localization in mind while creating content.
To establish brand loyalty, you will, of course, require a large amount of material that is ready to be localized for different markets. Depending on how much content you require, the amount of localization required might easily add up. For example, if you aim to target three buyer personas with content and localize it for five languages, you're investing time and resources to create one piece of content in fifteen distinct ways.
Here are just a few of the different types of content you can localize:
1- Content for User Interfaces
Your user interface (UI) content is concerned with how visitors interact with your website. Do you know how you test, adjust and retest material to ensure a decent user experience? That is the UI material you will most likely need to localize. As a result, you'll require the assistance of someone with technical experience to assist with the localization process.
2- Technical Content
You'll require a localization professional with extensive knowledge in the sector for technical content like user guides and product demos. Documents such as user guides frequently contain critical safety information, so don't take any chances when it comes to locating someone with suitable skills to assist you with translating and localizing them.
3- Games Content
Do you recall how bad the translations were on certain video games back in the 1980s? There is just no excuse for bad localization these days. In order for a game to reach its maximum potential, its localization must be flawless, whether it's in-game dialogue, menu selections, or any other text that displays on the screen.
4- Generic Content
Finally, there's the generic material that so many companies create as part of their engagement strategy. Blog entries and news pieces, for example, sometimes require only a light touch when it comes to localization, though most require more than just translation.
Importance of Content Localization
There are a few simple things you can do when writing English content to make translation easier for foreign markets. You may, for example, try using controlled, natural language. When combined with a global content strategy, content localization provides clear insights into prices, timelines, and budgetary consequences. It promotes a long-term approach to global corporate reach and aids in lead creation and customer retention.
It is important to use both strategy and localization. They serve consumers from various cultural and linguistic backgrounds with content that evokes the same reaction as native content. This results in increased trust, dependability, and curiosity, as well as a favorable influence across diverse cultures and global marketplaces.
If you want to expand globally, incorporating localization into your business plan will help you overcome cultural obstacles and ease entry into new markets. But the job isn't finished. Understanding the significance of localization is only the first step.
You must now consider implementation and locating the best technology to maximize your efforts, which may require some convincing to your company's stakeholders. But don't worry, we've got just the piece to assist you to make your case for a localization strategy.