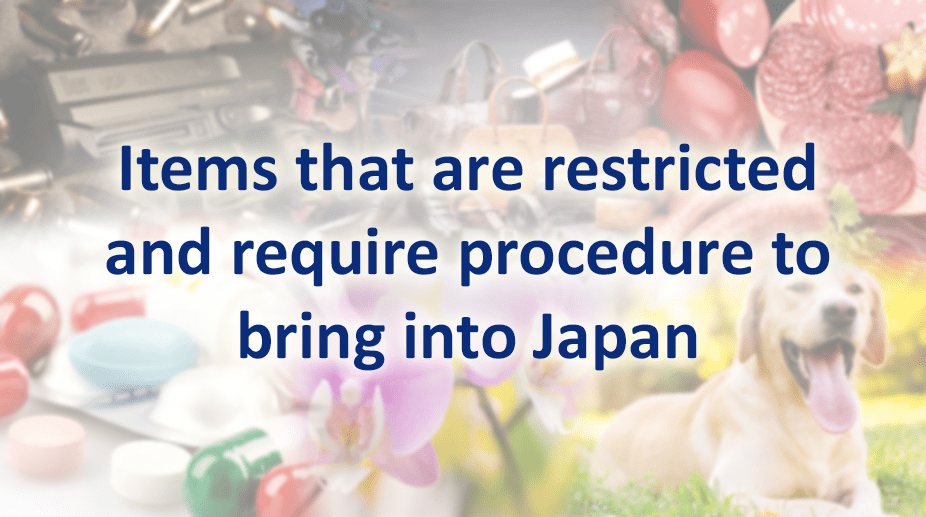 April 13, 2020
Restricted Items that Require Procedure to Bring into Japan
Bringing certain items into Japan may be prohibited or restricted. It is your responsibility to confirm whether the items you plan on bringing with you to Japan are allowed or not. Here's a list of items that are items that are restricted and require the procedure to bring into Japan.
1. Plants/Soil
There are many items that require a certificate of inspection issued by the exporting government agency attached. Plants without a certificate of inspection will be disposed of by the Plant Protection Act. For some quarantine pests that are technically difficult to detect at the point-of-entry inspection, the plants are required to undergo phytosanitary inspection in the field during the growing period in exporting countries. The plants subject to this restriction will NOT be allowed entry if not accompanied by due certification to testify that they have undergone growing site inspection in the exporting country. Once it has been confirmed that there are no pests, and then it can be brought into Japan.
Also, please remember that the plants originally produced in non-prohibited country will not be permitted entry if they are either reshipped from prohibited countries or brought by way of the prohibited countries to Japan.
Source: http://www.pps.go.jp/english/law/list1-2.html
2. Animal Products / Meat Products
Most meat products can't be brought into Japan however there are times when items attached with an inspection certificate for Japan are permitted. All animal products, including meat, organs, eggs, bone, fat, blood, skin, hair, feathers, horn, hooves, tendon, raw milk, semen, feces and urine, must be subject to animal quarantine upon arrival at a Japanese port, even if the products are refrigerated, frozen, cooked or in vacuum-sealed packaging. The inspection certificate issued by your country must accompany your animal products. In addition; Japan specifies animal products from certain countries and regions that cannot be imported due to the outbreak risk of animal-borne diseases. See the list of countries and regions published by the Animal Quarantine Service of Japan.
Source: https://www.maff.go.jp/aqs/english/product/import.html
3. Animals such as Cats and Dogs
Make sure to contact the Animal Quarantine Station beforehand and start when bringing over pet dogs and cats as it is required to have import inspections for rabies and leptospirosis (dogs only). Cats and dogs that have met import conditions can finish their inspection in a short duration, however, if the conditions are not met, they will have to be inspected in the holding facility at the Animal Quarantine Station for a maximum of 180 days.
Know more about importing animals to Japan here
4. Items made from CITES-listed Species
Import of many animals and plants is controlled by the Washington Convention called CITES (Convention of International Trade in Endangered Species of Wild Fauna and Flora). This applies to fur, leather products, and things that have been commercialized such as traditional Chinese medicine. To import items it requires documents designated by the Washington Convention such as a permit from the exporting country and an import approval certificate by Japan's Ministry of Economy, Trade and Industry.
5. Medical Products, Pharmaceuticals, and Chemicals
Japan imposes restrictions on the sale or use of certain products including those related to health such as medical products, pharmaceuticals, agricultural products and chemicals. For these products, Japanese Customs reviews and evaluates the product for import suitability before shipment to Japan. Licenses from relevant regulatory bodies may also be required for the importation and sale of those products. The use of certain chemicals and other additives in foods and cosmetics is severely regulated and follows a "positive list" approach.
Private importation is permitted without the said license requirement provided that those products to be imported are for their personal use or consumption and that the import volume is within a permitted scope:
1. No more than one month's supply of medicines that are toxicants, dangerous or prescription drugs;
2. No more than two months' supply of medicines that are non-prescription drugs or quasi-drugs; or
3. No more than 24 units (normal size) of similar cosmetic products.
Please note that body (hand) soaps, shampoos, toothpaste, hair dye and other toiletries may fall under the category of quasi-drugs or cosmetics, depending on ingredients. Veterinary drugs are subject to import restrictions in accordance with Japan's Act on Securing Quality, Efficacy and Safety of Pharmaceuticals, Medical Devices, Regenerative and Cellular Therapy Products, Gene Therapy Products, and Cosmetics (Pharmaceuticals and Medical Devices Act, or PMD Act). For more information on prohibited and restricted imports visit the FAQ section on the Japan Customs Website).
6. Firearms and Swords
In Japan, if you wish to import hunting rifles, air guns, and swords, you need to obtain possession permission from the Prefectural Public Safety Commission. Possessing weapons is fundamentally prohibited under the Firearms and Swords
Control Act, due to the high possibility of weapons being used in crime or accidents. Items allowed to be possessed or imported are listed under the Firearms and Swords Control Act article 14 such as "ancient firearms such as matchlock that has art or antique value, or swords with art value."
Source : https://www.customs.go.jp/english/c-answer_e/imtsukan/1808_e.htm ; https://www.mofa.go.jp/policy/un/disarmament/weapon/report0306.html
Want to Import your Products to Japan?
COVUE offers brands and OEMs complete Japan import and market compliance. We are more than an ACP or IOR, we are the direct market license holder for Japan import, sales & marketing, manufacturing, repair & tax representation.
In addition, COVUE can provide Japan-qualified invoice services to foreign sellers.