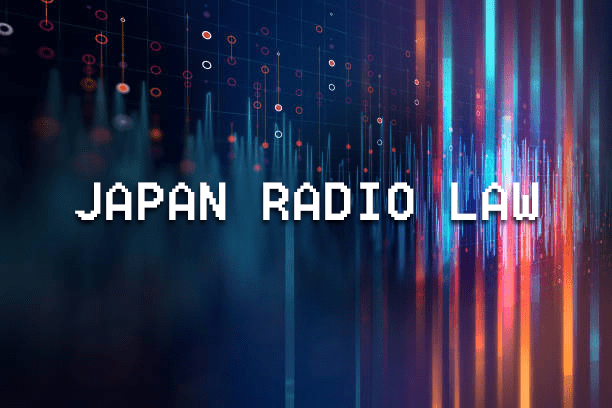 April 8, 2020
Japan Radio Law
A market authorization for radio products in Japan is granted on the basis of the Japanese Radio Law of the governmental authority Ministry of Internal Affairs and Communications (MIC) and is a requirement for the marketing of products in Japan.
The exact certification process for a market approval in Japan depends on the device itself or the technologies and interfaces used in the device. If the product incorporates radio technology, the certification process is required under the Radio Law.
Japan Radio Law was established to ensure fair and efficient use of the radio spectrum. It covers radio station licensing and operation, radio equipment approval systems, radio operator requirements, and penalties for violating the law.
Scope Products of Radio Law
Products with radio technologies must be tested and approved for marketing in Japan in accordance with the requirements of the Japanese Radio Law. Japan Radio Law scopes all products which emit electromagnetic waves with frequencies under 3 THz. The radio law divides products into 3 categories.
[one-fourth-first]
[/one-fourth-first]
[three-fourths]
Specified Radio Equipment
Article 38-2-2 of the Radio Law defines different types of Specified Radio Equipment (SRE). In general, consumer-operated radio equipment is categorized as SRE.
These "Specified Radio Equipment" are exempted from such license requirement. This is granted under the condition that such equipment has met the requirements of Technical Regulation Conformity Certification under the Radio Law as indicated by bearing the "Technical Conformity Mark" (please refer to table 4.3). These products must still be tested for compliance, but are subject to a simplified procedure of self-declaration and registration with MIC.
The certification process includes type testing and a review of the factory's QMS procedure. ISO 9001 certificates are acceptable and an on-site inspection is generally not required.
[/three-fourths]
[one-fourth-first]
[/one-fourth-first]
[three-fourths]
High Frequency Devices
Article 100-1-1 and 100-1-2 of the Radio Law defines radio facilities which use radio frequency currents 10 kHz or above as High-frequency Devices (HFDs).
HFPs are subject to 3 kinds of approval and must be registered by a local representative with the relevant regional branch of the Ministry of Internal Affairs and Communications (MIC) for their business address. A small number of these products are exempt from any kind registration, but must still comply with the legal requirements.
Only the manufacturer's official branch in Japan or actual importer is eligible to register the product with MIC.
[/three-fourths]
[one-fourth-first]
[/one-fourth-first]
[three-fourths]
Extremely low-power devices
As an execution of Radio Law No. 6, this amendment supplements technical requirements for low power radio equipment under Article 6 category. Article 4-1 of the Radio Law defines Extremely Low-Power Devices (ELPs) devices that operate below the limits as an exemption to licensing and do not require certification. However, such equipment is still obligated to comply with interference restrictions in the Radio Law and its regulations. Failure to comply with these restrictions may result in legal penalties depending on the level of interference caused. Through market activities, MIC discovered that many ELP's on the Japanese market are not in compliance with the requirements. As a result, a voluntary certification mark scheme has been introduced. (please refer to the table for the image)
Only local Japanese companies are eligible to register under this scheme, and test reports must bear the name of the Japanese company. If an overseas manufacturer would like to have the ELP mark shown on their product for marketing purposes, they are advised to contact their importer.
[/three-fourths]
Licensing Procedures
The Radio Law offers licensing procedures, ranging from self-declaration to third-party certification:
Certificate of Construction Design or Type
Sometimes known as "Type Certification" but Construction Design Certification is more widely used. In this case, the product, including construction and design, is certified on the basis of representative samples. MIC approval is granted if the product complies with the technical standards specified in paragraph 24 of article 38 of the Radio Law. This approval process is particularly suitable for manufacturers of radio products that are produced in large quantities. All Radio Equipment that is mass produced is subject to both Quality and Technical Standards for Construction Design certifications.
Technical regulations conformity certification
The equipment is tested for conformity in accordance with the standards defined in Section 38(6)(6) of the Radio Law. Under this certification system, each individual unit of a product is submitted to be certified. This process is primarily designed for equipment that is only produced in small batches (typically less than 100 units).
Radio equipment sold and operated in Japan is subject to four types of licensing procedures.
Broadcasting stations, etc. are subject to a full licensing procedure which requires the issue of a temporary license following equipment approval, and a formal license after an inspection of the radio station's completed setup.
Article 38-2-2(1) ii and iii) of Radio Law – Relatively short range devices such as cell phones, Multi-Channel Access (MCA) land mobile stations (800 MHz), amateur radio stations, etc… are subject to a simplified licensing procedure which allows for a formal license to be issued after equipment has been certified to be in compliance.
Article 38-2-2 (1) i) of Radio Law – PHS terminals, digital cordless telephone terminals, etc. PHS with antenna output below 10mW, 5 GHz wireless access systems, 2.4 GHz frequency hopping devices, etc… are subject to registration. Registration is a fairly simple procedure and applications can be completed online.
ELPs, specified low-power devices, WLAN, etc… are license-exempt.
Testing for products entering the Japanese market can take place in all recognized, accredited laboratories. However, many of the technical specifications are only available in the Japanese language and it is therefore it is vital to have a Japanese partner who is capable of handling the language issues. This makes COVUE an ideal partner!  COVUE is here to support with any issues concerning type approval and certification. We believe that our established test and experience will be sure to help you.
Want to Export your Products to Japan?
Let COVUE's regulatory experts help you to speed up the market entry process so can that you can focus on your business. We're here to help! It's what we do best.
At COVUE IOR, we seek to make the import process simple, compliant, and accessible to all sellers of all sizes. COVUE is not an ACP. COVUE is the direct IOR: we own our license, and our compliance support is in-house. We trusted by 000's of Sellers and Shipping providers.
Got questions? We're happy to help you.
Source: Ministry of Internal Affairs and Communications