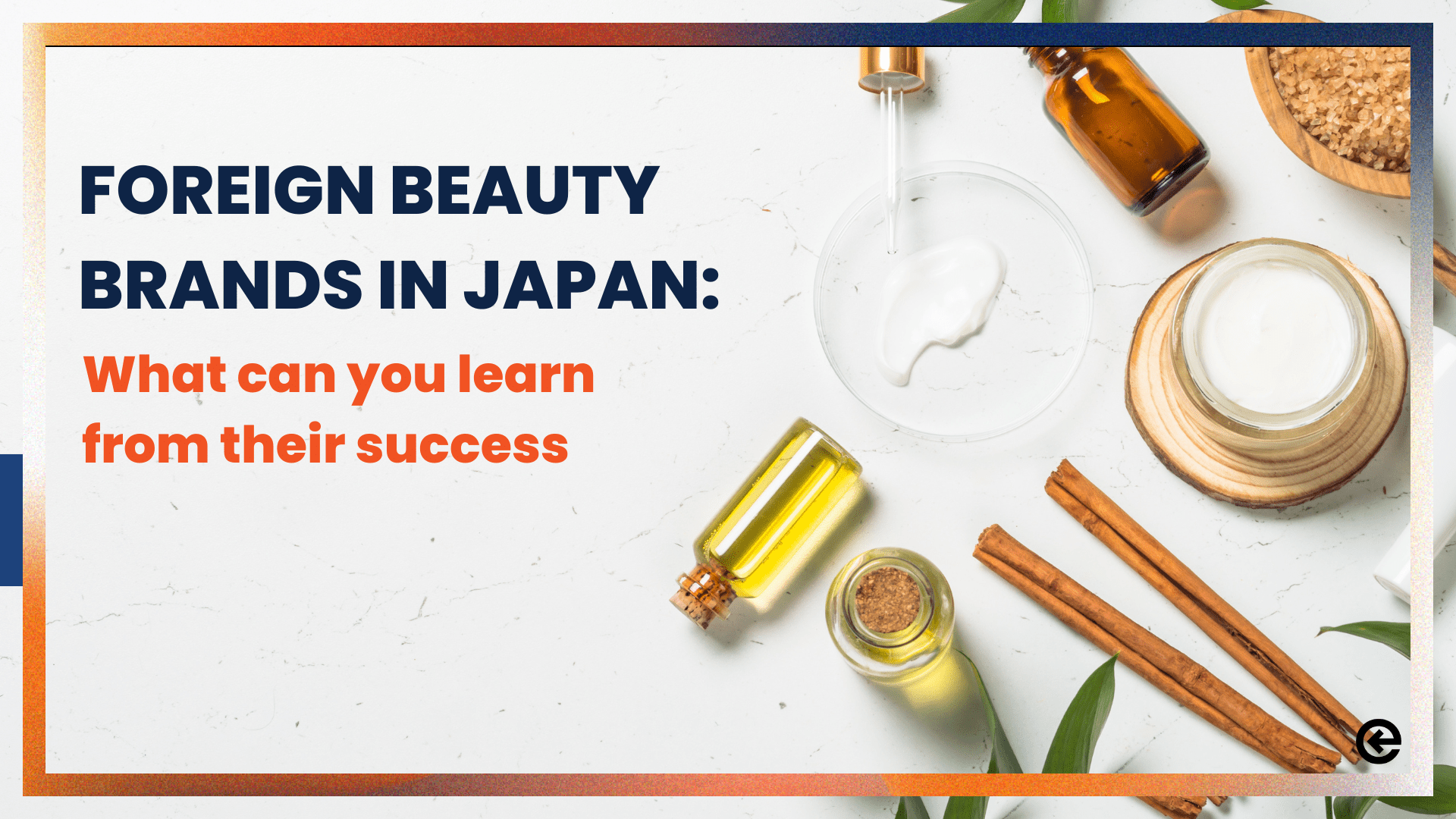 February 8, 2023
Foreign Beauty Brands in Japan: What You Can Learn From Their Success 
Japan's beauty and personal care industry is both saturated and highly profitable, with many business opportunities for new market entrants. There are not only domestic but also international brands competing. Over the years, brands like L'Oréal, Missha, and Estée Lauder have written their success stories. They turned skeptical customers into loyal brand advocates.
TOP 3 Foreign Beauty & Personal Care Brands in Japan
-Unilever PLC (e.g. Dove and Vaseline)
-L´Oreal S.A. (e.g. Kiehl and Lancome)
-Proctor & Gamble Company (e.g., Gilette and Braun)
Here's what you can learn from them to succeed in the market.
Getting a grasp of the market
Indeed, understanding the dynamics of the Japanese market is crucial for foreign businesses looking to establish a presence. However, with a growing market size in the beauty and personal care industries, it is no surprise that many foreign companies continue to see Japan as a lucrative market to expand in. According to Statista, the beauty and personal care market will be US$40.62bn worth in revenue in 2023. Over time, foreign companies learned how to sell here successfully.
Today, local brands such as Shiseido or Kanebo dominate the market next to international companies such as L'Oréal or Estée Lauder, with some of the most successful foreign brands hailing from France, South Korea, the US, China, and Thailand. The top-selling category is skin care, followed by make-up, hair, and men's care. This means high demand for products such as lotions, essences, and beauty tools.
Understanding the consumer
Understanding the Japanese consumer and their tastes is vital. Successful foreign brands take advantage of extensive research and adapt products. Customers wish for smooth and fair skin without imperfections. Because of that, products with anti-aging, skin-brightening, and moisturizing effects are popular. They are part of the Japanese product-layering skincare ritual.
Cosme, the biggest beauty product comparing website in Japan, scrapes its visitor data yearly. They rank the most popular items and brands in each category. Among these rankings are established companies from abroad. In 2023, foreign brands and their products are on that list, such as Kiehl's moisturizing "Ultra Facial Cream", Lancome's cleansing "CKARIFIQUE DUAL ESSENCE LOTION," or Estée Lauder's anti-aging "Advances Night Repair Synchronized Multi-Recovery Complex." These products gained popularity as they provided the customer with what they desired.
Read more about where consumers buy beauty products in Japan.
Riding on the wave of trends and making a difference
The market is driven by intense competition, where companies strive for constant innovation to stay ahead of the game. To stand out in this market, foreign businesses can consider targeting specific niches that offer unique value propositions such as multipurpose, high-performance, and personalized beauty products. Japanese consumers look for expertise and high-quality products in brands. Products should suit their skin and needs. For example, Vaseline has a product range to target customers with different skin conditions. Lancome offers services that analyze the skin through artificial intelligence (AI) and find suitable products.
Additionally, Estée Lauder provides online consultations for customized beauty treatments. Cutting-edge products and technology form an engaging customer-brand relationship.
Kiehl is a skincare brand known for their dermatologist approach with herbs as components. Their most popular products include whitening and moisturizing creams.
Another established company is Chanel. The luxury fashion brand branched out into the beauty industry. They took time to understand their potential customers. That is why Chanel started to combine innovation and high-end quality. One of the results is the successful launch of a whitening skincare line called Le Blanc. It addresses the Japanese consumer's desire for fair skin.
As a company seeking access to this highly competitive market, it is crucial to do market research. That helps you spot niche markets and turn them into business opportunities. By taking advantage of the niche areas, foreign businesses can increase their chance of success in this highly competitive Japanese market.
Giving it a Japanese twist
While having good products and a compelling brand story are important, they alone do not guarantee success in the Japanese market. It is crucial for foreign businesses to localize their brand and tailor it to meet the tastes and preferences of Japanese consumers. This includes ensuring that product claims comply with Japanese laws and providing translations of product descriptions into Japanese to build brand trust.
Utilizing a Japanese-language website, partnering with local influencers, and engaging in social media marketing can also help to boost the brand's reputation in the market.
Additionally, offering limited-edition items during different seasons can drive sales and increase brand visibility in the Japanese market.
Read more about how you can leverage content localization when selling in Japan.
The Korean brand Missha understood to create one desirable product. It is a compact product called the "Missha M Magic Cushion." It quickly became a fundamental beauty product for Japanese women to cover skin imperfections. Missha used clever influencer and social media marketing. Furthermore, they sold it directly to the customer via eCommerce to gain traction.
Another critical step is to design the product experience around the consumer and their environment. When Estée Lauder expanded to Asia, including Japan, they experienced it firsthand. Their products did not consider that Japanese consumers find thick creams too sticky in summer. That is why the brand created products that were suitable for different seasons. They became a success. In some cases, Japanese consumers may dislike the smell or ingredients of a product. The brand Braun offers men's and women's care products, such as shaving tools that suit their skin and provide the results Japanese consumers wish. For example, Japanese men prefer a completely clean, shaved face, e.g., due to their workplace.
Conclusion
Overall, there are numerous success stories of foreign brands in Japan. A common ground for success is a deep understanding of consumers and their needs followed by products that feel good and effective on the skin and marketing that persuades the right customers. Japanese people strive for brands that care about their customers.
Ready to Scale Up your Business in Japan?
Selling directly on eCommerce platforms with a niche product and a smart strategy support your market entry to Japan. COVUE, as your local operating partner, offers End-2-End solutions that complement your goals for 2023.