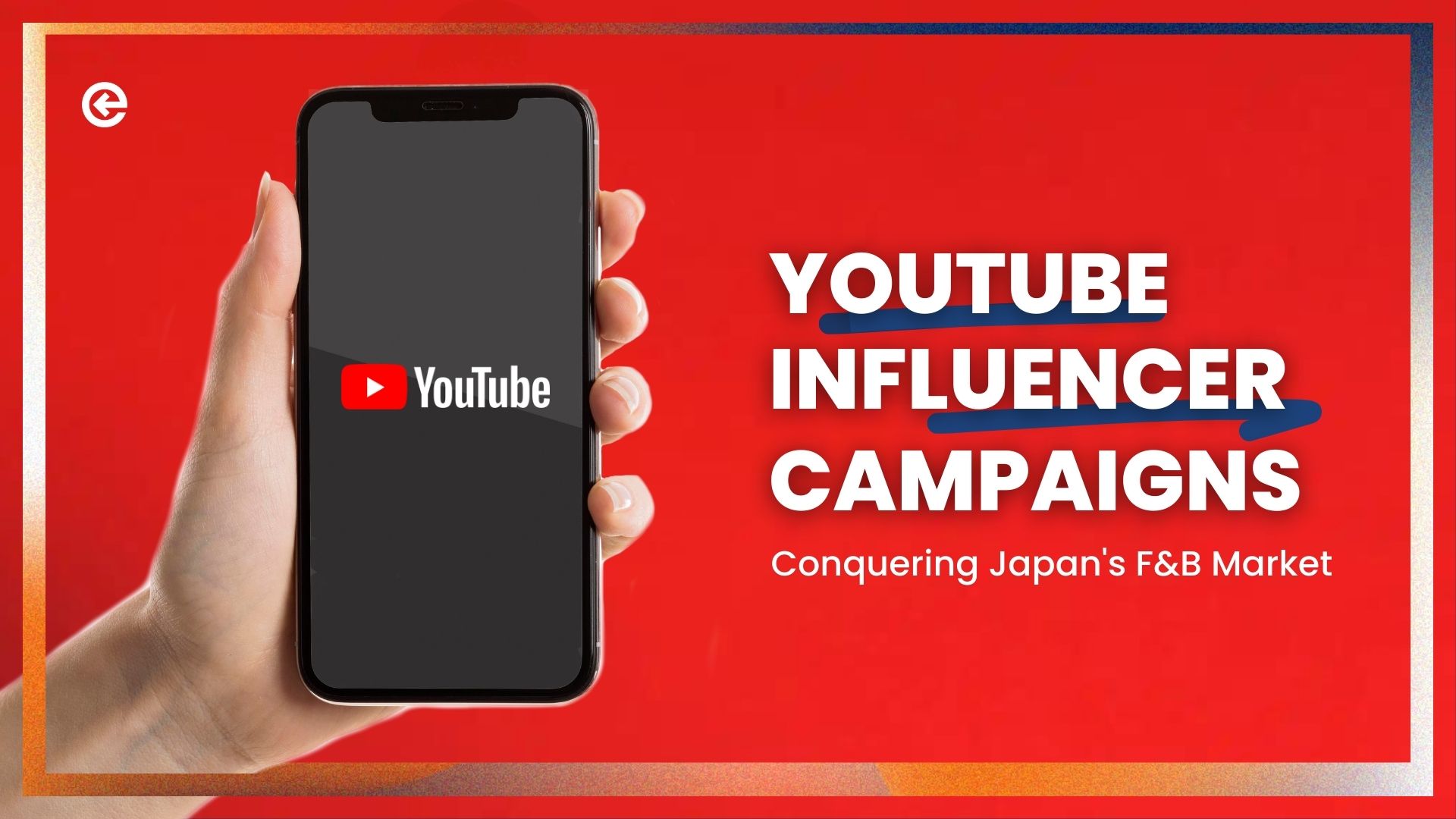 July 19, 2023
Youtube Influencer Campaigns: The Key to Conquering Japan's F&B Market
With over 78.4 Million users, Japan has the 6th largest Youtube user population in the world. Youtube has firmly established itself as the leading platform for F&B brands striving for success in Japan.
Japanese people seek recommendations from their peers to make purchase decisions, including food and beverages. So, whether you're launching a new food product or selling home-style meals, partnering with food influencers can help you create the buzz you need to make your brand more appealing to the Japanese consumers.
Why Youtube?
YouTube's popularity in Japan is growing, especially with short, engaging videos. The platform, apart from providing entertainment, is a trusted source for hobby-related information, recommendations and skills development.
Moreover, food video creators are among the top 10 list of most popular YouTubers in 2023. Which makes this platform ideal for influencer marketing. F&B brands can collaborate with relevant influencers in cooking or lifestyle categories to reach potential customers and enhance their brand's growth.
Here's how you can create a successful influencer campaign on Youtube in Japan.
Step 1: Identify the Right Japanese Influencer for Your F&B Brand
To find the perfect influencer for your brand, you need to consider their reach, engagement rate, and content style among the following:
– Consider influencers relevant to the F&B industry, such as competitive eaters, cooking channels, and food reviewers.
– Partner with industry experts, such as a famous dietitian, who will explain the benefits of your products.
– Make sure that the influencer's public image matches your brand.
Top 7 Japanese Food Influencers in 2023
Japan is known for its diverse food culture and popular food influencers. They can spread the word about your brand and increase your reach:
1- Cat-Featuring Chef" – JunsKitchen
Youtube: 5.32 Million Subscribers
Jun Yoshizuki's YouTube channel, JunsKitchen, mixes cooking tutorials with cute cat moments. Jun's cooking skills and his cats make his channel a hit. If you're looking to reach the Japanese food market, Jun is an excellent choice.
2- "Fisherman Foodie" – Masaru
Youtube: 1.8 Million Subscribers
Masaru brings entertaining content to his audience, focusing on unusual seafood. From catching to cooking, his videos are a delight to watch. Partnering with Masaru will surely boost your brand's visibility.
3- "Street Eats Expert" – MOGUMOGU
Youtube: 939K Subscribers
MOGUMOGU's YouTube channel explores the street food scene in Japan, giving viewers a closer look at food preparation and the stories behind each dish. Collaborating with MOGUMOGU will let your brand win the hearts of food lovers locally and internationally.
4- "Home Cooking Hero" – Macaroni
Youtube: 911K Subscribers
Macaroni's channel offers budget-friendly recipes for home-cooked meals. A partnership with macaroni will quickly get your brand noticed by Japanese hobby chefs.
5- "Travel & Taste Duo" – TabiEats
Youtube: 561K Subscribers
Shinichi and Satoshi of TabiEats take their viewers on food tours around Japan. By aligning your brand with TabiEats, you can reach a wider audience of Japanese food fans.
6- "Easy Japanese Cooking" – JapaneseCooking101
Youtube: 474K Subscribers
JapaneseCooking101, hosted by Noriko & Yuko, simplifies Japanese meals. With their English-dubbed videos and accessible ingredients, they effectively promote your brand to food lovers worldwide – and in Japan.
7- "Foreign Food Fan" – Bento Club
Youtube: 693K Subscribers
Chris, the creative force behind Bento Club, is an enthusiastic foreigner who possesses a deep appreciation for Japanese cuisine. He is known for showcasing budget-friendly and time-efficient meals that audience enjoy.
Step 2: Collaborate Smartly to Boost Your Brand
Influencer campaigns can boost your food and beverage brand and sales in Japan. Here are best and common practices to collaborate with influencers:
Paid Partnerships
Sponsored posts allow influencers to introduce your products to their followers.
Exclusive Sneak-Peek
Let influencers preview your new products, creating pre-launch excitement.
Competitions
Enhance brand engagement with contests or giveaways.
Ambassador Programs
Develop long-term relationships with influencers to promote your products.
Social Media Takeovers
Allow influencers to control your accounts temporarily, offering unique food-related content.
Creative Collaborations
Work with influencers to create unique food or drink products appealing to their audience.
Unboxing and Reviews
Let influencers unbox and review your products, providing an authentic perspective for potential customers.
Commissioned Promotions
Affiliate marketing with influencers offers discount codes to followers, boosting your sales.
Event Activations
Host events with influencers to generate engaging, immersive content about your food and beverage offerings.
Step 3: Measure Your Influencer Campaign's Performance
Check out these simple steps to see if your influencer campaign works in Japan:
1- Use special links in influencer posts to see how many people click and buy your products.
2- Track 'impressions', which tell you how many people saw your content.
3- Check 'engagement', meaning likes and shares, which show how people interact with your posts. Set clear goals for the campaign and monitor your website traffic to see if changes occur.
4- Have Key Performance Indicators (KPIs) to measure your campaign's success.
Get Inspired by Two Successful Influencer Campaigns in Japan
Let's look at two examples from Japan where food and drink brands made good use of influencer marketing:
How Asahi Super Dry Worked with BayashiTV
Asahi Super Dry, a Japanese beer company, teamed up with BayashiTV, a popular food YouTuber. They appeared in a video where Bayashi cooked a delicious chicken and cheese dish and enjoyed it with Asahi Super Dry beer. The video was a hit on Youtube, with many people engaging. It increased brand awareness.
Ajinomoto's Collaboration with Ryuji from "Buzz Recipe"
Ajinomoto, a Japanese food ingredient brand, worked with Ryuji, a cooking YouTuber. This campaign video shows how Ajinomoto's special umami salt improves food taste by cooking an egg dish. The reception of the video was good, with lots of views and engagement.
In both examples, the brands cleverly included their products in food videos, making them more appealing. If you're an F&B brand trying to enter the Japanese market, these examples show the impact of partnering with influencers. It helps your brand get noticed and liked.
Read more about Japan's top social media platforms.
Conclusion
Establishing your F&B brand in Japan may be challenging at first glance. However, with the right marketing strategy, you can compete. Influencer marketing should be a part of it to put your brand in front of the right audience. From finding a suitable influencer for your brand to choosing the type of campaign, it is crucial to remember what you want to achieve: brand awareness, reach, and sales.
Not Sure How to Contact a Japanese Influencer?
Our team at COVUE helps you set up an influencer campaign for your F&B brand as part of our marketing services. We provide services such as influencer research, pitching, and content production.
Sources: Japan Buzz, GourmetPro, Aj Marketing, Enbirds