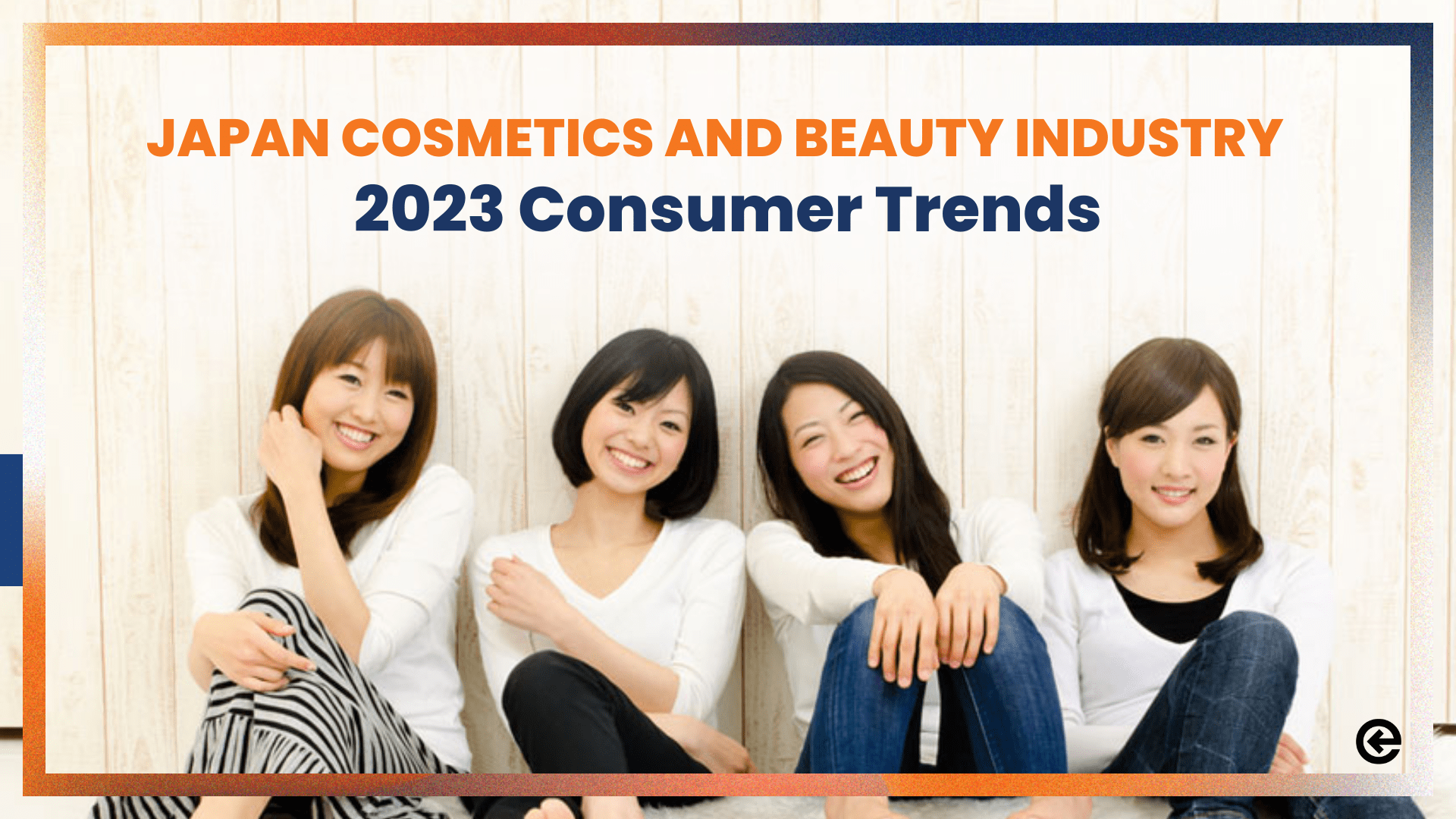 February 22, 2023
Thriving Cosmetics Beauty Industry in Japan: Watch these Consumer Trends in 2023 
By the end of 2023, Japan's beauty market will be worth US$40.62k. Consumers are eager to discover the latest products from local and international brands. They look for technical innovations, personalized engagements, and safe and trustworthy products with high efficacy.
Let's dive deeper into consumer trends and what business opportunities they hold.
Top 7 Consumer Trends of 2023 in the Beauty Industry 
1- Technical-driven beauty
Japanese consumers are sophisticated and well-informed about products and their effects. Moreover, they look for products that suit their skin type. Desirable skin care items can be multipurpose or designed for one purpose explicitly. The Japanese salon brand Lady Bio did it with its versatile, water-based mist that helps to combat dry and acne-prone skin. Seleia is another Japanese brand specializing in scalp care. They use micro-needle technology to penetrate the scalp's skin with its serum. Accordingly, innovative products that effectively impact the skin and improve its condition are an emerging market opportunity for businesses.
2- CBD as a substance
Among Generation Z consumers in Japan, the popularity of CBD (Cannabidiol) as a component of beauty products has risen. The market is still developing in Japan as laws are strict. For example, Migoto's Sugoy offers essential CBD oils to help you relax. Japanese brands import most of these products from Europe or the US. That can be a business opportunity for foreign brands to explore as the demand for CBD goods increases.
3- Femcare and Femtech
This category is a growing opportunity in the Japanese beauty space. It targets women and their overall well-being. Nutritional supplements, lubricants, intimate washes, and lotions with or without CBD show a wide range of possibilities in this category for brands. Furthermore, femcare enhances women's health during menopause, menstruation, and pregnancy. It also includes female sex toys. Fermata is a femtech brand that started selling online in 2019 and moved into retail in 2020. Their product scope includes menstrual underwear, sex toys, and more female-related items. The market's response to female-specific products seems slow. However, it is happening and shows potential and rising demand. For example, the drugstore Matsumoto Kiyoshi started to place femcare goods in its 30 stores called Matsukiyo Lab in 2021 that target single households with beauty products.
4- Product and brand authenticity
Product safety, quality, and performance are more critical to consumers than ever. To compete, brands like L'Oreal invest in skin care, hair care, and skin devices that offer greater efficacy. Additionally, Cosme rankings for 2022 are dominated by popular products from past years, such as Kiehl's Ultra Face Cream. This fact underlines that Japanese consumers prefer their good-old favorites, whose claims have already been proven to work. For brands, that means focusing on the authenticity and efficacy of their products and claims. Also, they can center their product lines more on their core expertise instead of reinventing the wheel this year.
5- Sustainability
Brands seek ways to tackle environmental issues as consumers' concerns about the planet's future growth. Some brands, such as Shisheido with their "SEE, SAY, DO" campaign, shift their focus toward minimizing waste by developing eco-friendly packaging. Other approaches may be sourcing organic ingredients or supporting fair trade. That leads to business opportunities for those who create sustainable products that speak to the current concerns of consumers.
6- Emphasis on one feature
During the worldwide COVID-19 pandemic, Japanese people wore masks. As a result, many consumers decided to highlight their eyebrows rather than their lips since the mask covered them most of the time. With mask requirements being lifted, Generation Z consumers in Japan have started to look for products that help them express themselves. This year, they will likely use products of flattering color and smooth texture for their eyes or lips. It is imperative for you to understand the cultural nuances of the market and its consumers to be successful here.
Read more about the successful strategies of established foreign brands in Japan.
7- Ultra-personalized shopping experiences
Japanese consumers can enjoy a versatile and competitive beauty market under the constant pressure of innovation. The choice of products from such a wide variety of brands causes a higher demand among customers to know what is best for them. A brand can create individualized communication with its customers through online questionnaires, one-to-one consultations, artificial intelligence skin analysis, try-on AR filters, custom-formulated products that fit each customer's skin type, and more. For example, Estée Lauder offers online and in-store consultations in Japan to connect with its audience. You can also build loyalty with subscription boxes or special rewards as a brand. The more you learn about your customers, the better you can serve and bond with them. That can be one of the competitive edges for beauty companies in Japan.
Conclusion
In 2023, Japanese consumers will look for authenticity and innovation in the brand and their products. You can enter this market with personalized communication, sustainability, and high-performance and versatile products. CBD and Femcare are small but growing and promising categories. Knowing these trends can help you understand and leverage the market's current dynamics.
Need Support to Expand your Beauty Brand to Japan?
COVUE is your operating partner in Japan who strategizes and executes your vision. Our team's mission is to support your goals in the most effective way possible to amplify your success in Japan. We help you with import compliance, logistics, setup of eCommerce, and more.