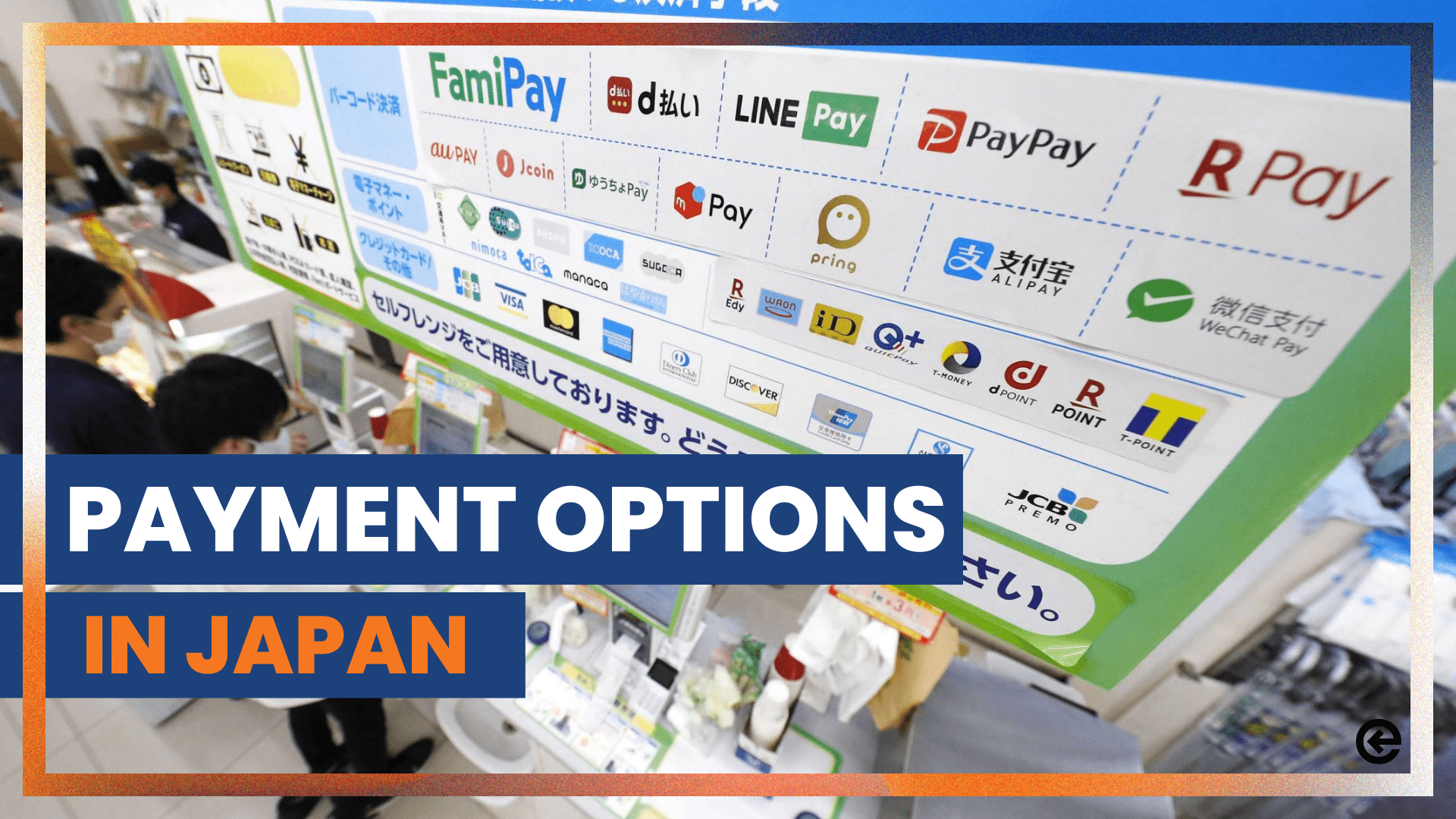 December 29, 2022
Payment Options in Japan
Cash has traditionally been the favored payment method among the Japanese, although there has been a gradual shift towards cashless options in recent years. ESW reports that only a minority of Japanese consumers engage in cross-border shopping, and they tend to prefer merchants who offer payment options in yen and other local methods.
By tailoring the payment options on your Japanese webshop to local preferences, you can enhance the customer experience and influence purchasing decisions.
Top 8 Payment Methods in Japan 
1- Cash Over-the-Counter
With the third-highest cash usage rate in the world, you will find many local shops, restaurants, and cafes that only accept cash. Small businesses are interested in avoiding the high fees of payment providers. Therefore, it is an unwritten rule to always carry a few banknotes always and coins with you. Still, Japanese people consider cash as the safest payment option. Nevertheless, the Japanese government creates incentives to establish trust in cashless options.
2- Konbini Pay
You will find convenience stores called "Konbini" all over Japan. These shops are open 24/7 and allow customers to pay for invoices, utility bills and more. It's a beneficial tool in your eCommerce kit as your Japanese customers can pay in cash, their favorite payment method.
Thinking about getting into eCommerce in Japan? Read more
3- Bank Transfer
Most Japanese people own a bank account. They use a bank transfer to pay invoices that they received from a business. Therefore, bank transfers are the preferred method for business transactions. When transferring money to friends or family, they tend to use other payment types.
4- Credit Cards
In the past few years, the adoption of credit cards has increased. According to Global Data, the Japanese government encourages people to use electronic payments. Consumers have become more aware of its advantages, and more sellers are accepting this method. Credit cards are attractive as they come with reward programs. Also, they offer an easy, secure and quick transaction for your customers.
5- Payment Apps
Payment apps such as PayPay, Line Pay, and R Pay offer to pay via a QR code on your smartphone. You can link your bank account or charge the app via ATM, credit cards, and gift cards. This method is a game changer for Japanese people who do not own a credit card. It also provides point incentives, special discounts, and bonus campaigns. This way, they can participate in online shopping and pay cashless at several stores, restaurants, and other places. In addition, some local establishments will only accept this payment method as the fees of credit card providers are too high.
6- Point Cards
At participating stores and restaurants, you can use point cards such as Nanaco, Waon, or Rakuten Edy. You can charge them with cash and earn points every time you make a purchase. That is an attractive benefit for your Japanese customers. They can get discounts on products by redeeming their collected points. With special point campaigns, you can boost your sales, since Japanese customers always look for the best deal.
7- Transit IC Cards
One of the most popular cashless payment options are transit IC cards like Suica and Pasmo. Both are available as a physical card and an app. The majority of Japanese people use these cards to pay for public transportation. However, many shops, vending machines, convenience stores, and restaurants accept them as payment. You can top up these cards at stations, convenience stores or online.
8- Digital Wallets
The acceptance of digital wallets such as Apple Pay and Google Pay has grown. The wallets allow you to pay at different stores and restaurants all over Japan. It uses NFC (near-field communication) or a QR code to proceed with the payment by connecting to a transit IC card, credit card, or debit card.
Conclusion 
Still, the preferred payment method remains to be cash in Japan. However, cashless options have become popular. Various shops, restaurants, and department stores welcome them. They are secure, fast, and convenient. The more options you provide as a business, the more customers you can convert. By adapting your payment methods to local tastes, you can positively influence customer purchase-buying choices.
How COVUE Can Help You?
COVUE, as your IOR and ACP, can help you to integrate local payment options into your localized website. Besides that, we offer End-2-End Japan Market Entry Solutions. These include eCommerce, logistics, marketing, retail, branding services and more.