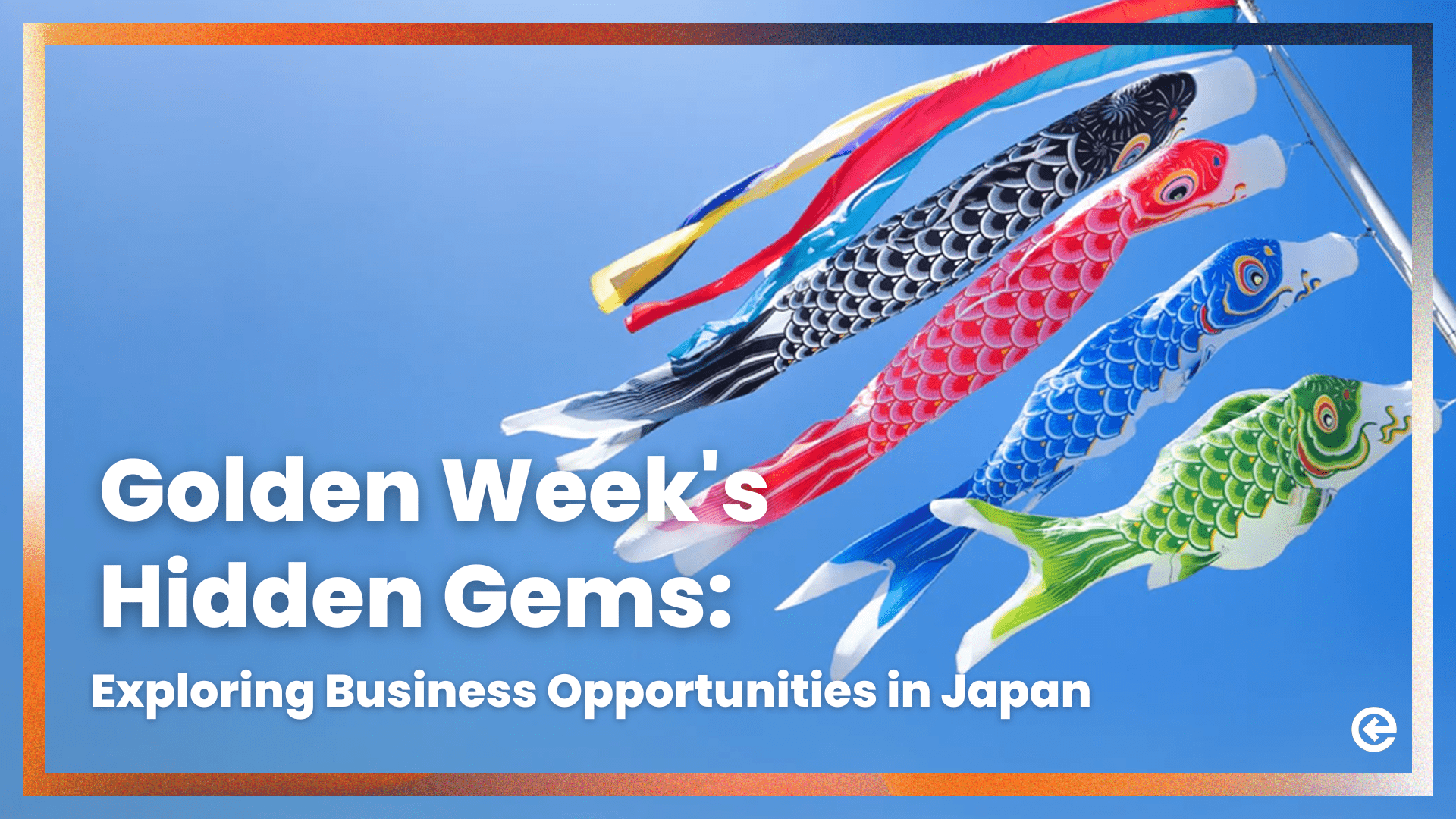 April 18, 2023
Golden Week's Hidden Gems: Exploring Business Opportunities in Japan 
Welcome to Japan's Golden Week, a week-long holiday celebrated by an entire nation! Let's explore this event and its opportunities and how beneficial it can be for your business!
Golden Week in Japan
Golden Week is an annual event in Japan, combining four national holidays in a single week. The name originates from the old Japanese radio slang "golden time," referring to a time with the highest listener ratings. It is a week of entertainment and leisure time, with events hosted across Japan.
Japanese people anticipate the Golden Week, which provides a rare, extended vacation. Most of them enjoy time off, so the atmosphere becomes busy and lively. They participate in various activities, such as hiking and celebrations across the country. Some are held in amusement parks, zoos, museums, and shopping malls. As Japanese people enjoy this exciting period, businesses benefit.
Which Japan Holidays are Golden Week?
1- Showa Day (the 29th of April)
Golden Week starts with Showa Day, which commemorates the birthday of the late Emperor Hirohito before the holiday transitioned to Greenery Day in 1989. This day honors the love of the emperor for plants. When Greenery Day changed to the 4th of May, the holiday changed back to its original name in 2007.
2- Constitution Memorial Day (the 3rd of May)
This day celebrates the Japanese constitution, giving citizens time to reflect on the idea of government and democracy.
3- Greenery Day (the 4th of May)
A day to celebrate nature, it encourages individuals to appreciate the environment and the human connection to it.
4- Children's Day (the 5th of May)
Ending the Golden Week with Children's Day! This day celebrates children's health and happiness; it is flagged by colorful carp streamers and traditional food, such as Kashiwa mochi.
2023 Golden Week Dates
Although the official dates of the Golden Week holidays are from April 29 to May 5 each year, celebrations and travel usually commence a day or two before the holidays and extend for a few days after, particularly during long weekends.
Does Golden Week present Business Opportunities? ABSOLUTELY!
It is one of the busiest holiday seasons in the country. With millions of Japanese people traveling domestically and internationally, the tourism and hospitality industries thrive during this time. Businesses related to transportation, accommodation, food, and entertainment can expect a higher demand and revenue.
Additionally, many people use this holiday season to go shopping. Shopping is one of the favorite activities during Golden Week, with locals and travelers taking advantage of promotions and sales. Due to people being off work, most visit stores online and offline during Golden Week more than at other times of the year. As a result, E-commerce sites such as Amazon Japan, Rakuten Japan, Uniqlo, Yahoo! Japan Auctions, and brick-and-mortar stores offer enticing discounts and exclusive items to sell more. You can see a spike in sales, especially online. Because of a staff shortage and a limited logistics capacity, many businesses plan to fulfill orders on time and inform their customers about possible delays. Read more about what an important role Japanese holidays play in business.
Successful Campaigns from Brands during Golden Week
Brands can increase reach and sales by aligning marketing efforts with Golden Week themes and activities. Offering deals, special promotions, or products and services corresponding to holiday activities such as travel can help businesses capitalize on Golden Week. Therefore, Golden Week and other events throughout the year should be a part of your marketing plan for Japan.
Uber Eats Japan
With the tagline "Every day is a day to commemorate," in 2020, Uber Eats Japan offered customers an exclusive meal to enjoy at home. Each day, they provided a different type of dish or ingredient, with the themes switching daily (Matcha Day, Melon Day, and International No Diet Day). Furthermore, Uber Eats Japan also used wordplay in the campaign by naming the 8th of May "GO EAT" Day. To explain the linguistics behind it: In Japanese, the number 5 is called "Go", followed by the English for number 8, which sounds like "eat" to Japanese people. This example illustrates how powerful content localization in marketing campaigns can be.
Sword Art Online and Battlecats
In 2020, a Twitter campaign for the Sword Art Online game offered users rewards when they reached in-game targets and followed sharing and commenting guidelines. Moreover, the mobile game app named Battlecats, developed by PONOS Corp., celebrated its seventh anniversary. During Golden Week 2020, PONOS provided in-game extras and social media competitions featuring its mascot, Nyanko character to enhance brand visibility as more users spend time gaming during the holidays.
Conclusion
Golden Week presents an exceptional opportunity for businesses to engage with Japanese customers. Companies can create targeted marketing campaigns and promotions that resonate with the audience and offer discounts on products and services such as accommodation or travel.
Want to Grow your Business during the Japanese Holidays?
COVUE helps you streamline your marketing strategy and execution in Japan as part of our End-2-End Japan market entry services. Our goal is to position your brand in front of your target audience and connect with them.