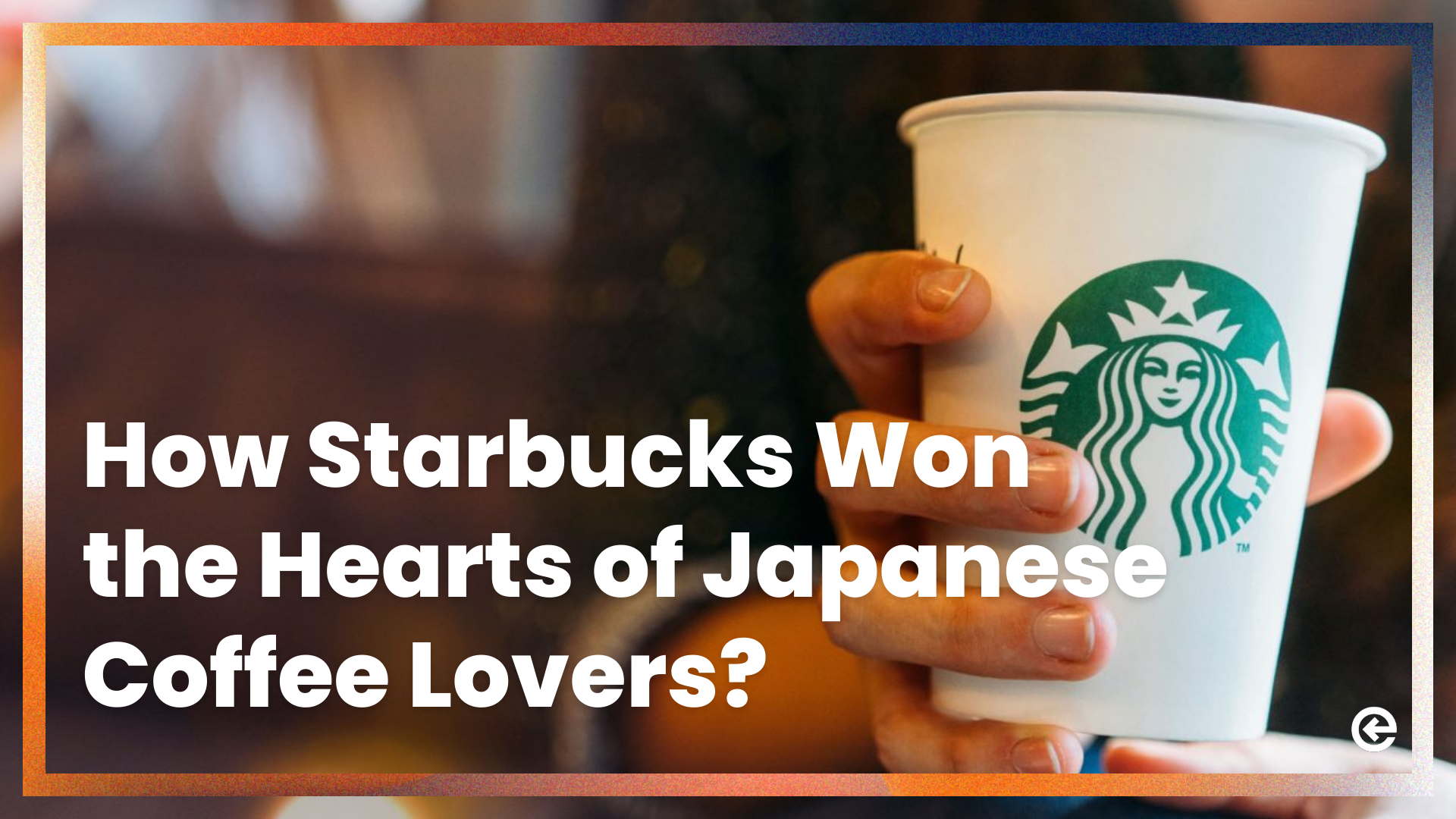 May 24, 2023
How Starbucks Won the Hearts of Japanese Coffee Lovers?
Why is Starbucks so popular and beloved in Japan? Was it a stroke of luck or a carefully crafted marketing strategy? And how did iconic Japanese elements like green tea and sakura cherry blossoms find their way onto their menu?
Let's discover the story of its first international venture and unravel the secrets behind Starbucks' success in Japan.
Japanese love Starbucks – But Why?
Starbucks recognized early on how crucial research into local preferences and Japanese consumers would be to their success. That set the foundation for why Japanese customers adore the brand today, as Starbucks invested the time and resources to get to know its new target audience.
They changed the following to adapt to market demands:
1- Smaller serving sizes on the menu as in the US because Japanese people are used to smaller portion sizes
2- Lower sugar levels in drinks as consumers prefer them to be less sweet
3- Additional matcha-flavored items on the menu to cater to the cultural taste
4- Premium products at a budget-friendly price to target a diverse audience
5- Call customers by a number instead of their name to pick up their order, which respects Japanese privacy
Strategic Expansion to Japan: Starbucks' Joint Venture
Starbucks, the famous coffee shop in Seattle, entered Japan in 1996. That was its first international expansion, and the company didn't embark on that adventure without a proper plan. Instead, they entered into a 50-50 joint venture with Sazaby League, a well-established retailer and restaurant chain in Japan. This strategic partnership allowed Starbucks to gain a solid footing in Japan.
They leveraged Sazaby's deep knowledge of the local market, opened stores in several locations, and ended the partnership in 2004. Today, they own more than 1600 stores across the country.
Marketing Strategies That Set Starbucks Apart
By collaborating with Sazaby, Starbucks avoided potential pitfalls, grew exponentially, and established a successful business model aligned with local preferences.
However, Starbucks' triumph in Japan is based on more than its strategic partnership. It's about how the brand adapted its marketing strategy to create a compelling experience inviting Japanese consumers to try the new way of enjoying coffee back then.
1- Creating a Cozy Living-Room Atmosphere
Starbucks entered Japan at a time when the coffee scene was dominated by kissaten, small coffee shops reminiscent of tea houses with a simple menu that offered black coffee only. These minimalist but charming establishments, a staple of the Showa era, were sprinkled throughout Tokyo.
Starbucks provides more than just a cup of black coffee. Its focus was to create an entirely reimagined cafe experience. The brand transformed from a large coffee shop chain in America to a personal, hometown coffee shop in Japan. They blended its stores with local culture. You can find that in the architecture of some stores which mirrors the beauty of the surroundings, like the 100-year-old townhouse in Kyoto or the Edo-era building that houses the coffee shop in Saitama.
Moreover, they differentiate themselves from the kissaten culture by selling high-quality coffee beans from overseas across all locations. Also, they prohibited smoking in their stores, despite most Japanese smoking in cafes. That didn't stop people from trying Starbucks. In fact, these strategies led to its popularity as they opened its doors to a more diverse audience. Today, Starbucks welcomes students cramming for exams, professionals discussing business, couples on dates, or tourists taking a break.
2- Seasonal Marketing: Cherishing Japan's Seasons
Starbucks also demonstrated an understanding of Japan's love of seasonal items. For example, Starbucks launches its special and time-limited cherry blossom-themed menu each spring, featuring sakura-flavored drinks, foods, and pink merchandise. In summer, you can find melon- and strawberry-flavored items on the menu, while they serve Christmas-inspired drinks during winter.
Throughout the year, that encourages sales and social media sharing, which boosts the brand's visibility. As a brand looking to succeed in Japan, seasonality and exclusiveness of products should be a part of your marketing plan, as Japanese consumers get excited about special and limited offerings.
Read more about Seasonal Marketing in Japan.
3- Going All Online on LINE
On the digital front, Starbucks collaborated with LINE, a popular Japanese messaging app. The launch of the digital LINE Starbucks card in 2019 was a game-changer, reaching over a million users in just 2.5 months. They implemented a rewards and order system that allows customers to accumulate points for purchases and redeem them for free drinks and other rewards. This has enabled the company to increase customer loyalty, leading to more repeat purchases and higher sales.
As you can see, leveraging social media can effectively increase customer loyalty and boost sales. Additionally, forming strategic partnerships with popular applications can greatly expand a company's reach and attract more customers in Japan.
Conclusion
Starbucks' success in Japan can be attributed to its local strategic partnership, understanding of the market, localization of its products and services, and smart use of digital platforms such as LINE. This example shows how powerful a localization and marketing strategy can be if planned and executed accordingly. With a tailored strategy, you can elevate your brand in Japan and increase brand awareness and loyal customers.
If your brand is looking to break into the Japanese market, we at COVUE enable you to grow your brand in Japan. We offer various services, from localization to marketing and import compliance.