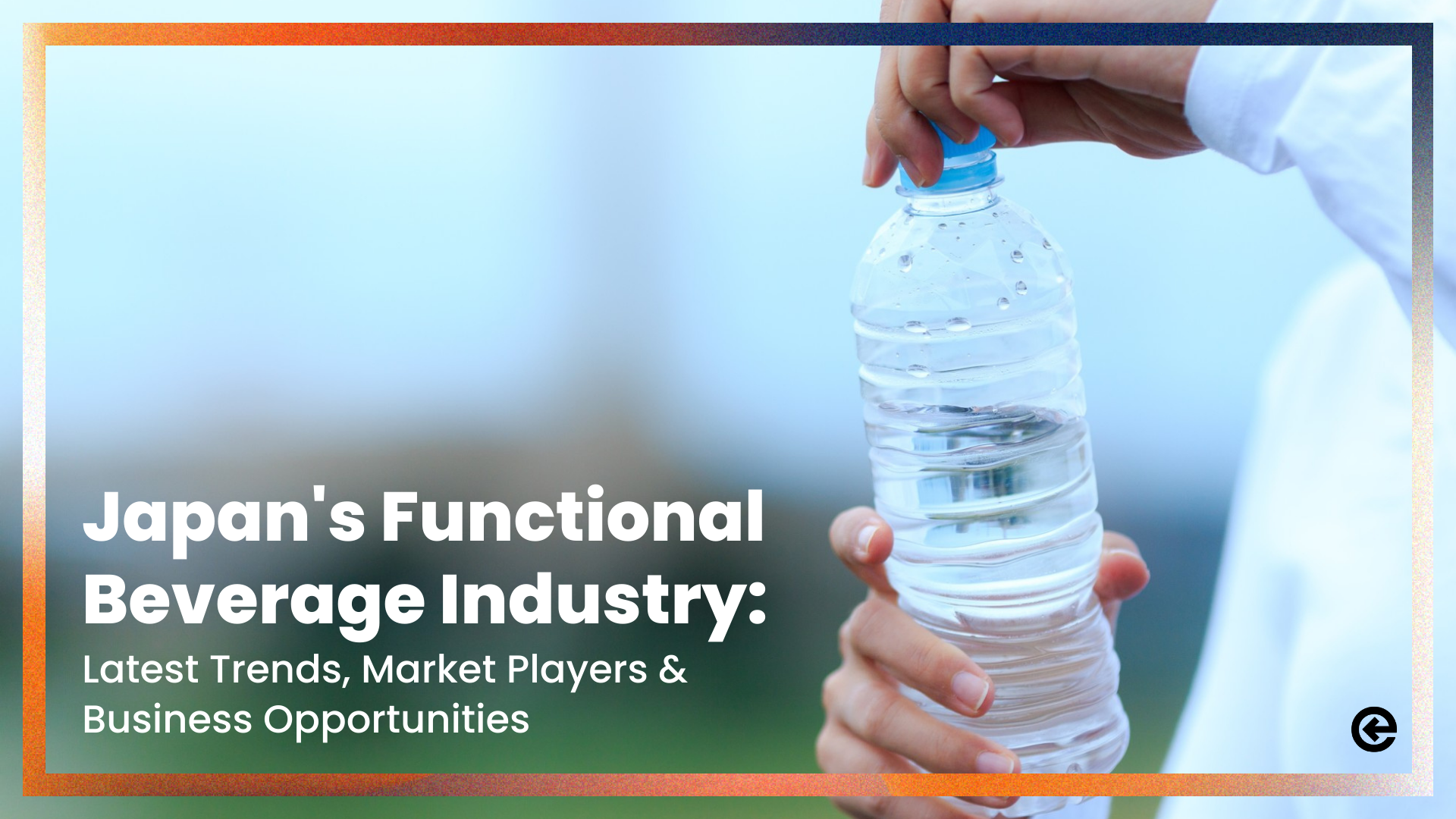 July 7, 2023
Japan's Functional Beverage Industry: Trends, Market Players & Business Opportunities
Imagine a dynamic landscape in the beverage industry where exciting changes are taking place. Welcome, beverage enthusiasts and entrepreneurs, you are invited to explore new possibilities and reimagine how we enjoy our drinks in Japan.
If you're looking for such next big thing in the beverage industry, it's Japan's booming functional drink market with a projected CAGR of 11.8% over the next 5 years.
Functional beverages are a category of drinks that provide health benefits by containing nutrients like vitamins, minerals, fiber, and probiotics. They include sports drinks, energy drinks, carbonated beverages, and fruit/vegetable drinks. These beverages offer a range of advantages, such as increased energy levels, improved gut health, boosted metabolism, and reduced inflammation. They also address specific concerns like skin problems, hair growth, weight loss, heart diseases, and muscle recovery.
In Japan, you can find these functional beverages primarily in supermarkets, convenience stores, and online platforms. They are typically packaged in PET and glass bottles, which make them easy to carry and consume on the go.
–Growing health awareness and recognition of nutritional value
The escalating health consciousness among consumers and their understanding of functional drinks' health benefits are fueling market expansion. Individuals on keto, low-carb, or lactose-free diets often turn to functional drinks as substitutes for products that conflict with their dietary restrictions. Low sugar and natural ingredients are two of the key reasons for their decision on functional beverages.
–The popularity of Ready-to-Drink (RTD) beverages
With busy schedules and hectic lifestyles, consumers increasingly choose RTD drinks. Japan's functional drinks market is booming as they offer convenience on the go.
–Impact of social media and celebrities
The influence of social media trends and promotions on functional drinks contributes significantly to market growth. In particular, influencers of sport and wellness on social media contribute to higher sales and awareness, as they target the desired consumer base.
–Flavors inspired by traditional Japanese drinks:
Many domestic and global key players use unique flavors inspired by traditional Japanese beverages, such as Aojiru, Sakura tea, and Mugicha, to widen their consumer base in Japan.
Read more on the opportunities and trends of the beverage market in Japan.
Prominent players in Japan's functional drink market include:
1- Archer Daniels Midland Co.
2- Asahi Soft Drinks Co. Ltd.
3- Danone
4- ITO EN
5- Monster Beverage Corporation
6- Nestlé
7- PepsiCo Inc.
8- Red Bull
9- Rockstar Inc. (PepsiCo Inc.)
10- Coca-Cola Bottlers Japan Inc. (The Coca-Cola Company)
11- Suntory Beverage & Food Ltd. (Suntory Group)
12- Taisho Pharmaceutical Co. Ltd.
As a response to the growing demand for nutritional beverages, Kirin launched its first Function Claims (FFC) nutrition sports drinks in April 2023. Their new product, Kirin Plasma Sports, is enhanced with LC-Plasma to boost the immune system actively and is available in a 555 ml PET bottle.
Coca-Cola's Coke Plus is the health-conscious version of their famous drink in Japan. Each Coke Plus bottle has zero calories and contains 5 grams of "indigestible dextrin," a water-soluble dietary fiber that reduces neutral fats in the blood after consumption. This sugar-free beverage, like Coca-Cola Zero, allows guilt-free enjoyment to the consumers.
ITO EN, one of Japan's leading green tea brands, has introduced several innovative green tea products since the 1960s. These include the world's first canned Sencha beverage, the first green tea in a plastic PET bottle, and the first heatable green tea in a PET bottle. They are available in vending machines throughout Japan. ITO EN green tea is less bitter than other ones as the leaves are steamed up to five times longer than regular green tea during production. Their green tea products claim to reduce body fat.
Transforming Market Challenges to Business Opportunities
The ever-evolving tastes and health awareness of Japanese consumers are causing dramatic shifts in this industry. These strategies can help you tackle these challenges and turn them into business opportunities:
1- Ongoing innovation among the competition
You can stay competitive in this aggressive market if you focus on current customer preferences, natural and health-beneficial ingredients, and local flavors in product development.
2- High pricing of functional drinks
Differentiating from competitors who target a limited base of high-income consumers, you can capture a broader market by offering reasonably priced products.
3- Lack of public discussion
You can promote the health benefits and raise more awareness of functional drinks to become the leading thought leader in this industry.
4- Strict labeling and advertising restrictions
The FCC claimed beverages in Japan are heavily restricted. You can keep up with the competition by getting a local expert on board.
5- Seasonality of certain drinks
To remain relevant throughout the year, it is crucial to adapt your offerings by aligning flavors with specific seasons. For example, introducing Sakura-flavored products in spring.
Save the Date
If you're interested in the beverage industry, take advantage of Drink Japan 2023, the country's largest beverage technology expo! Taking place from December 6th to 8th at Tokyo Big Sight, this event promises to showcase the latest trends in beverage and liquid food development and manufacturing.
Japan's functional drinks market presents a promising opportunity for businesses, given its growth potential, increasing consumer health consciousness, and preference for nutritional beverages. Success in this market requires understanding consumer preferences, continuous innovation, and delivering healthy, high-quality products.
COVUE helps you to penetrate the Japanese market successfully. Our team will guide you through the entire process, from import compliance to final launch, with legal and market advice.