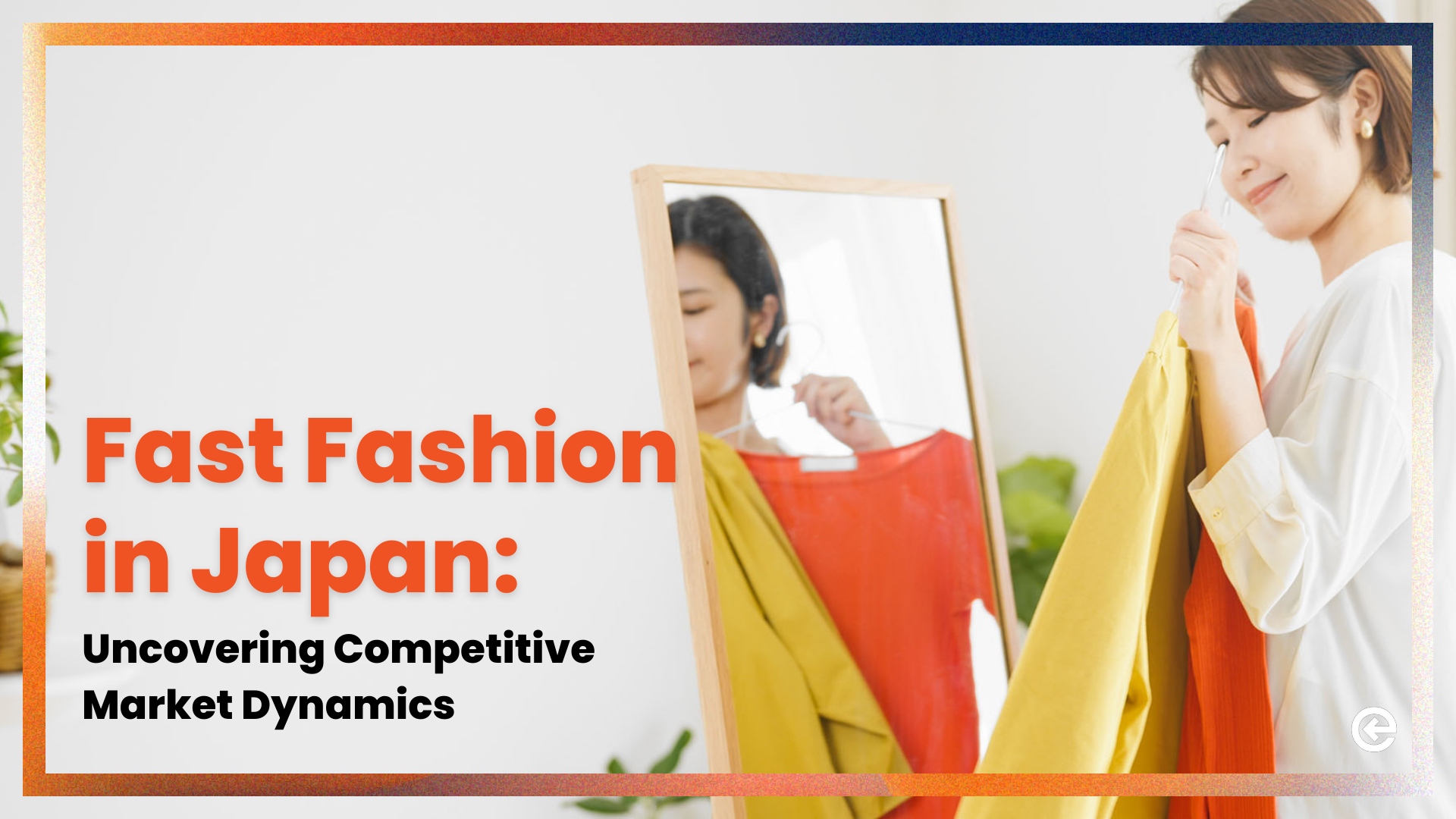 May 17, 2023
Fast Fashion in Japan: Uncovering Competitive Market Dynamics
Fast fashion industry is on the rise!
With a projected market size of over US$50.23bn in 2023, the market offers a perfect business opportunity for brands who look to reach a broader consumer base.
However, navigating the fashion industry can be challenging because of its ever-changing trends.
To succeed in the Japanese fast fashion market, it's crucial to understand your target audience's demographics and preferences. Keeping your finger on consumer demands, you can position your brand to thrive in this quickly wavering landscape.
– Consumers have become more conscious of sustainability
– They prefer personalized experiences offline and online
Read more about the preferences of Japanese consumers.
1. Affordability: There are lots of budget-friendly brands like Zara and Shein available.
2. Trendiness: Brands offer the newest trends from the catwalk delivered to the home of the consumers.
3. Quick adaptation: Brands are staying relevant among their competition with special incentives and shopping experiences depending on the market developments.
Japanese fashion markets are a blend of e-commerce and brick-and-mortar stores. While fashion owns 27.8% of Japan's eCommerce market, physical stores continue to hold a special place in consumers' hearts. In fact, Japan is known for its unique in-person shopping experiences. Virtual and augmented reality technologies offer fresh ways to engage with customers online and offline.
Leading Players of the Market
Competition in the Japanese fast fashion market is fierce, with major domestic and international brands competing for attention. You'll face several challenges as a foreign fashion brand entering the Japanese market. From cultural differences to the challenges of competition, it's crucial to have a good strategy. Homegrown brands like Uniqlo and GU have a significant market share, while international brands like H&M and Zara have found ways to keep up with them. Currently, other brands carve out their niches and offer innovative designs and incentives, like Forever 21 and Shein.
Forever 21, a once-popular fast fashion brand, exited the Japanese market due to intense competition and the rise of online shopping in 2019. However, the brand re-entered the market in 2023 with a fresh approach and emphasis on sustainability. Initially, they started with online sales and a showroom-type store in Tokyo. Later this year, they opened their first physical store in Osaka's LaLaPort shopping mall. Intending to have 15 stores and achieve 10 billion yen ($74.1 million) in sales by 2028, Forever 21 collaborated with Adastria Co., a large Japanese apparel company, for strategic product planning and sales. This marks a shift from fast fashion to focusing on higher-quality and environmentally-friendly products.
Shein is a rising star in the SPA (Specialty Store Retailer of Private Label Apparel) market, managed by Singapore-based Chinese company Roadget Business Pte. Ltd. The brand has aggressively targeted the Japanese market, participated in Tokyo Girls Collection events and opened pop-up shops across the country. Embracing the Direct-to-Consumer (D2C) model, Shein requires customers to purchase products online via QR codes. As the brand shows its fast growth potential in the Japanese market, its success is evident.
Japan's fast fashion market offers opportunities and challenges for brands that are willing to understand and adapt to Japanese consumers' unique preferences. You can create a strong brand presence by staying on top of the latest trends, pushing for innovation, and delivering personalized experiences.
With the right approach and an understanding of the market, COVUE can help you to grow your brand in the land of the rising sun.
Sources: Japan News, Statista, Asahi, GlobeNewsWire, Ecommerce DB, Japan Times