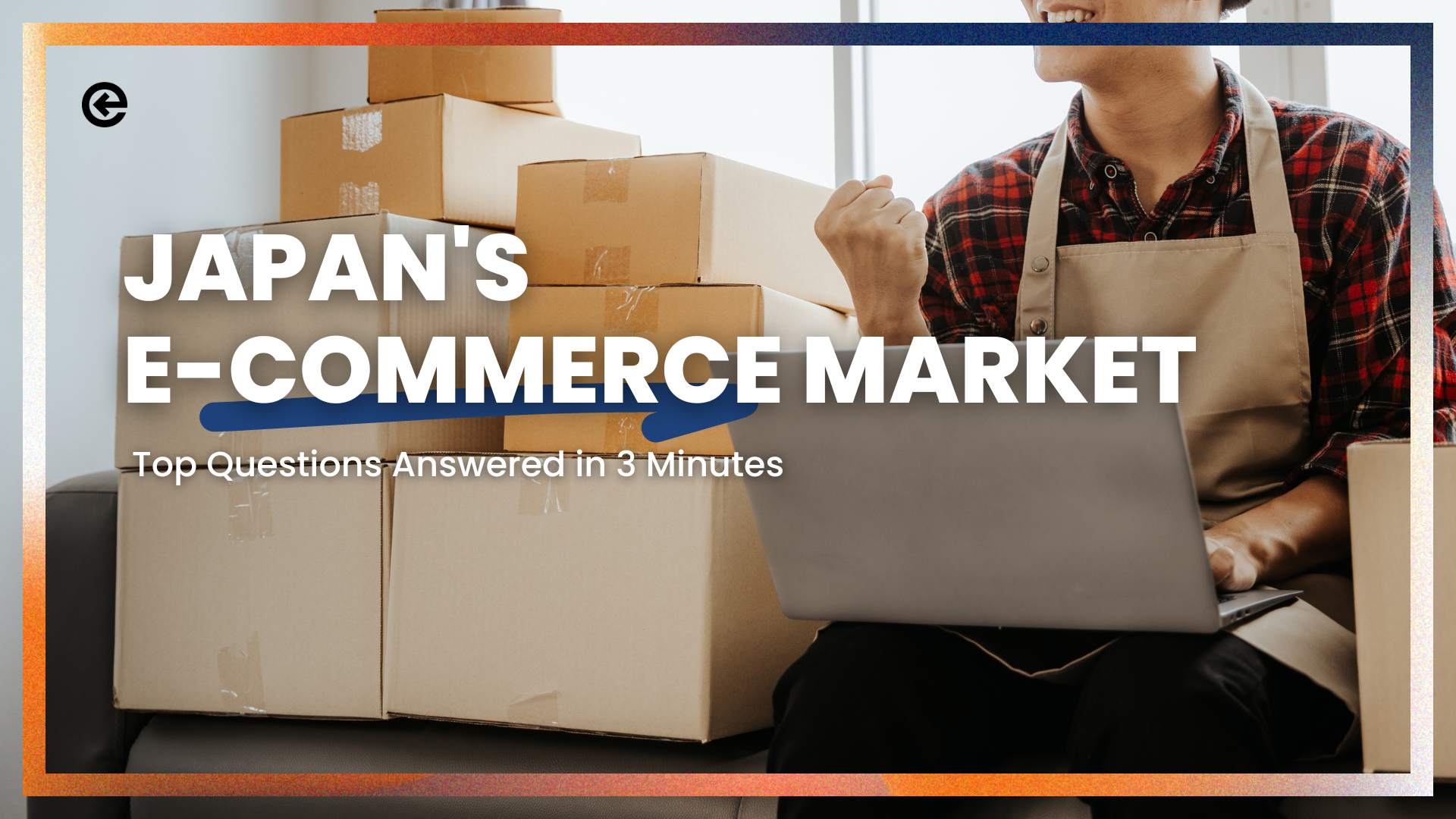 July 26, 2023
Japan's eCommerce Market: Top Questions Answered in 3 Minutes
Japan's eCommerce market, the fourth largest in the world, presents an undeniable opportunity for foreign businesses in Japan. Before tapping into the market, it´s crucial to understand the fundamentals of the eCommerce landscape in Japan.
Let's look at the most burning questions about eCommerce in Japan.
Grasping eCommerce in Japan
What is the potential of the eCommerce market in Japan? 
Japan's eCommerce market is growing steadily. With over 102.5 million Internet users, Japan offers immense potential for online retailers.
Which are the dominant eCommerce platforms in Japan? 
Rakuten and Amazon Japan are the leading eCommerce platforms, providing a diverse product range and customer base. They are the go-to digital marketplaces for local and international sellers.
How does Amazon Japan compare with Rakuten in terms of monthly visitors? 
Although Amazon and Rakuten are neck-and-neck in competition, Amazon leads with 556 million monthly visitors, while Rakuten follows with 544 million.
What are the primary drivers of eCommerce growth in Japan? 
The major drivers include:
– Increased smartphone usage
– Improved digital payment infrastructure
– A growing consumer preference for online shopping is driven by convenience and variety
Getting Started on eCommerce Platforms in Japan
Amazon or Rakuten – Which platform is the best choice? 
The Go-To platforms for doing eCommerce in Japan are Amazon Japan and Rakuten. Looking at Rakuten, it operates as a virtual mall where sellers have more control over their storefronts. In contrast, Amazon offers a platform where sellers list their products directly on Amazon's pages.
It is easier to set up an account on Amazon than Rakuten. However, depending on factors such as the target audience or product category, it is best to consult with a local partner to determine which platform fits you.
Read more about how to get started in eCommerce in Japan.
What are the most popular product segments in Japan's eCommerce market? 
Fashion, electronics, and media are among the most popular product segments. Groceries and household goods are rapidly growing in 2023.
Find out what the best-selling product categories are in Japan.
When shopping online, what do Japanese customers expect? 
Japanese consumers value detailed product descriptions, high quality, and superior customer service. They prefer brands and products that provide comprehensive information and reliable post-sale support.
Challenges and Strategies
What challenges do foreign brands face when entering Japan's eCommerce market? 
The most common challenges include language barriers, cultural hurdles, high customer service expectations, and complex regulatory requirements.
Read more about market entry challenges you might face.
What strategies can international brands use to gain popularity among Japanese shoppers? 
Successful strategies involve:
– Tailoring products to local preferences
– Investing in Japanese-language customer service
– Partnering with local experts to develop a business strategy for market entry
Read more about the importance of content localization in Japan.
Trends and Customer Preferences
How is Japan's aging population influencing eCommerce trends? 
Japan's aging population is influencing a rise in health and wellness products, easy-to-use tech gadgets, and services catered to seniors.
What are the preferred payment methods for online purchases in Japan? 
While credit card remains the preferred payment method, options like PayPay, Rakuten Pay, and convenience store payments are also popular.
Find out what the top payment methods are in Japan.
Conclusion
Understanding the eCommerce landscape in Japan offers you a roadmap to navigate the market. With the right strategies and an understanding local trends and preferences, you can dive into Japan's thriving eCommerce space and realize growth opportunities.
Want to Expand Your Brand into eCommerce in Japan?
With COVUE by your side, you get a local partner and insights to succeed in the Japanese market.. From strategy to operations and marketing, we help you to grow your business in Japan.
Datareportal, Humble Bunny, Webretailer