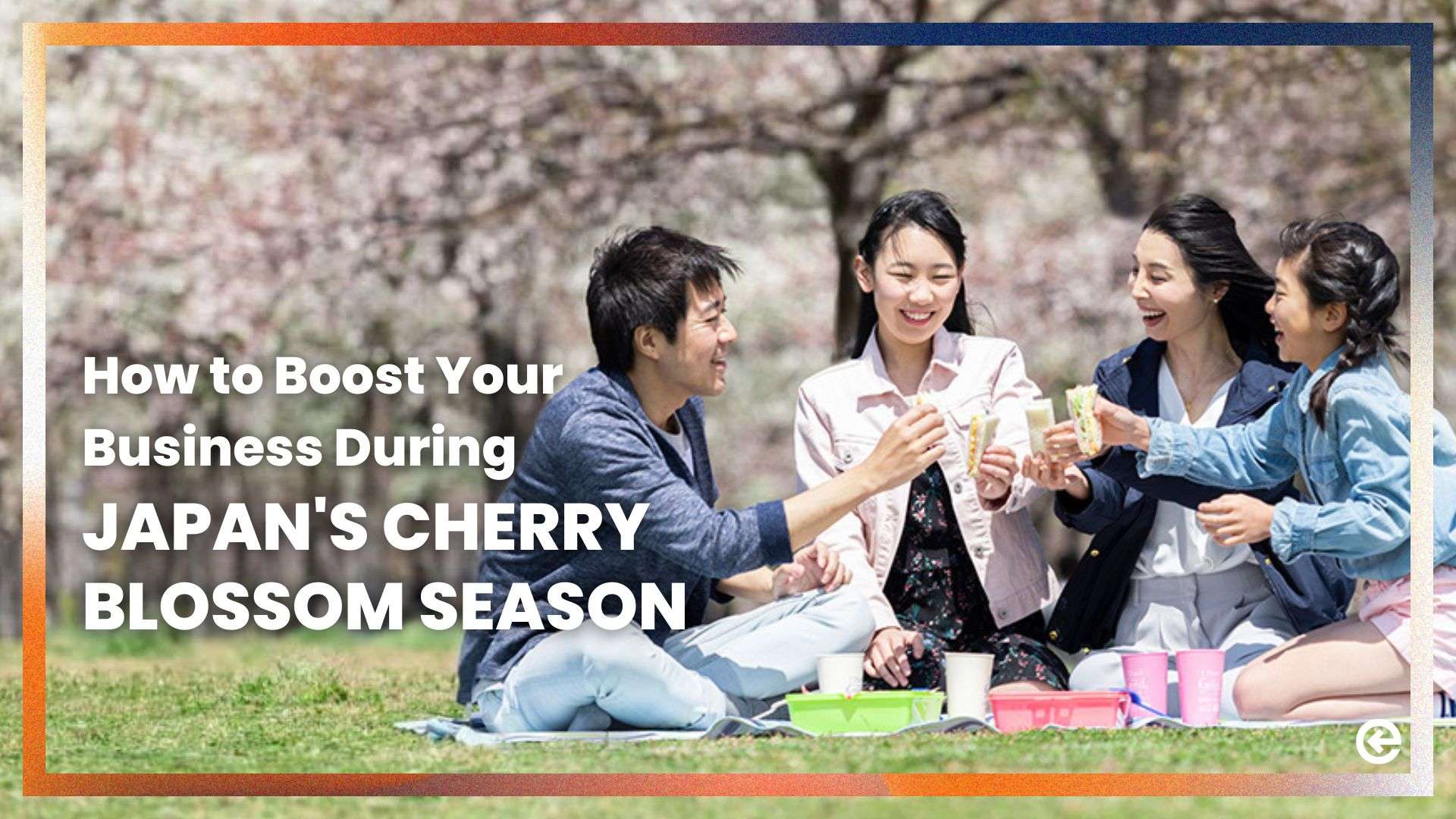 March 1, 2023
How to Boost Your Business during Japan's Cherry Blossom Season?
Japanese people and people worldwide enjoy Hanami (viewing flowers) at over 1000 locations from Okinawa to Hokkaido. As spring approaches, business is booming in Japan, and you'll see crowds admiring cherry blossoms near busy shopping streets.
Hanami – Cherry Blossoms in Japan 
Hanami is the famous tradition of viewing cherry blossoms. The peak season lasts from late March to early April. Enjoying cherry blossoms with friends, family, and coworkers is a popular tradition. Other activities include walking, hiking, riding boats, listening to music, and watching performances. You can find Sakura (cherry blossom) in parks, on hiking paths, along river sides, at temples and shrines, and all over Japan. Close by are usually small temporary shops that offer beverages and special lunch boxes.
On weekends, people gather for an entire day to spend a good time together. In the evening, there are often illuminated cherry blossom trees that create a unique atmosphere at night. These short moments of beauty represent the fading nature of the blossom. You can take the meaning of this Japanese event and interpret it as the celebration of every second of life. That is because nothing lasts forever, and you should enjoy every moment to the fullest. These values have deep roots in Japanese culture.
How businesses make a profit during the Sakura season
You may ask how you can translate this traditional and short-lived occasion into business practices that you can profit from.
The food and beverages market leverages this special event throughout March and April. They offer lunch boxes for the Hanami picnics, Sakura-flavored snacks and drinks, and limited editions of specific products. You can find these in department stores, online, or in small shops. Additionally, people look for outdoor goods such as dishes, warm clothes, blankets, and more.
Various brands offer special editions or Sakura-themed products like Coca-Cola with their Sakura-edition packaging. They know how crucial it is to integrate cultural events into their marketing strategies. Whether you sell cosmetics, souvenirs, or other products, you can create a buzz around your brand in Japan by adapting your website, packaging, and products to the season. Your Japanese customers appreciate it when domestic and international brands participate in the ever-changing seasons. Moreover, you can increase your sales with attractive time-limited offers, limited editions, and special products that are a one-off deal.
Read more about how you can profit from Japanese events and seasons.
Conclusion
Understanding Hanami and other Japanese cultural events is essential to do business in Japan successfully. Tailoring your products to these special occasions allows you to build a stronger relationship with your customers, promote your product launches, increase sales, and gain brand attention.
Need help Scaling your Brand in the Japanese Market? 
We at COVUE understand Japanese culture and know how to navigate through the dynamics of the market. As your strategic operating partner, we provide tailored guidance and complementary End-2-End solutions to help you scale your business in Japan.