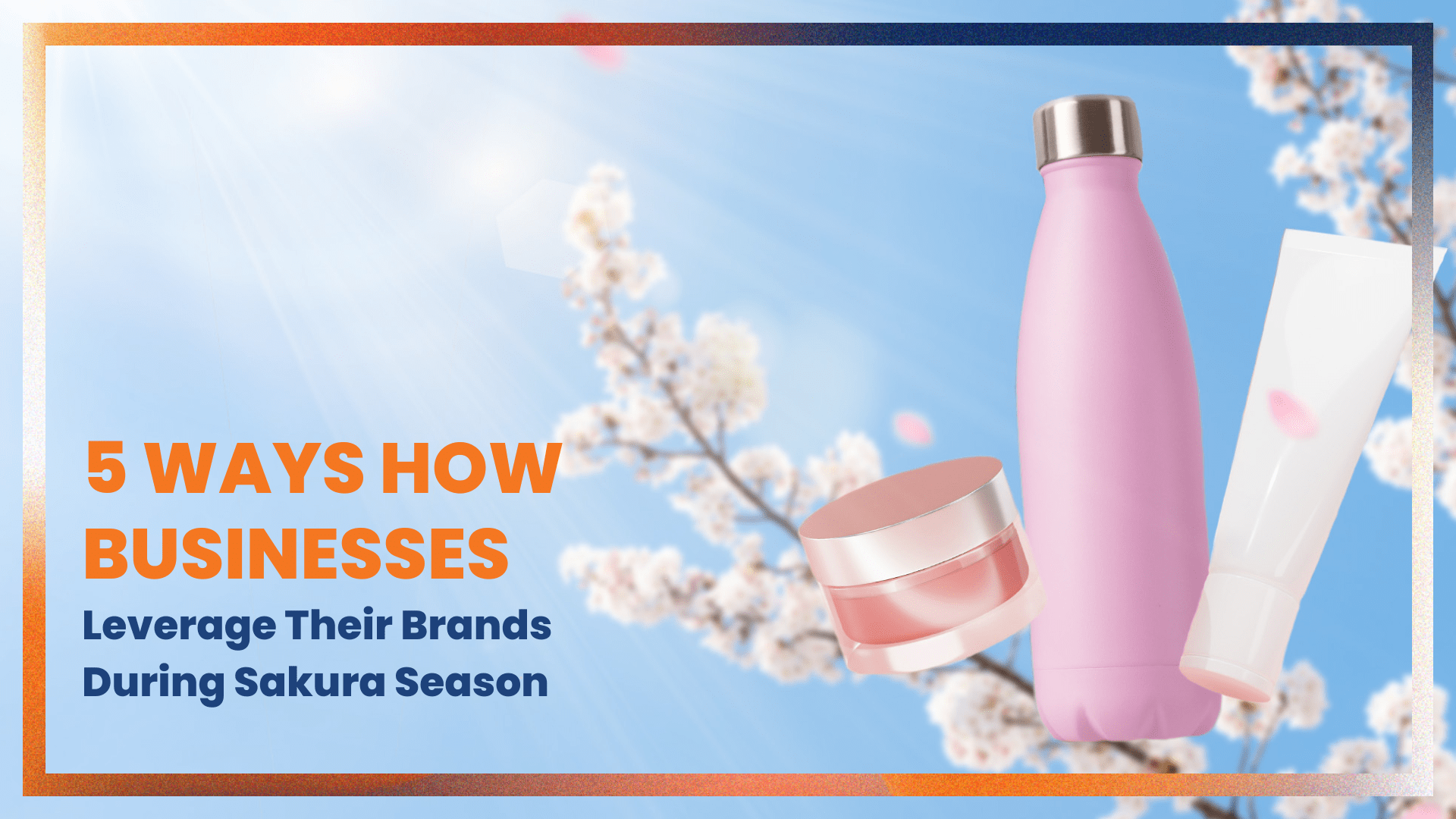 March 8, 2023
5 Ways How Businesses Leverage Their Brands during Sakura Season
The Sakura season is one of the most awaited events in Japan, with millions of visitors flocking to over 1000 locations to witness the beautiful cherry blossom trees. As a result, this season presents opportunities for businesses to leverage their visibility and reach in different ways. Brands can connect with large audiences to promote their products and services through creative marketing strategies.
Here are 5 ways foreign brands leverage cherry blossom season's popularity for their businesses.
1- Limited-edition and Sakura-themed products
Businesses create limited-edition products that are cherry blossom-themed. This includes food and beverages that taste like Sakura and other products. For Japanese customers, exclusive and time-limited items come with a sense of urgency to purchase. At the same time, they symbolize the season's fading beauty. Customers will recognize your brand positively if you include the unique character of the season in your products.
Kit Kat is one of the most outstanding examples with their exclusive Sakura-flavored chocolate bars. When Kit Kat first came to Japan in 1973, they discovered that the Japanese pronunciation of its name meant "absolutely win". That's why students started using Kit Kats chocolate bars as lucky charms during the spring entrance tests. Kit Kat leveraged that fact by producing Sakura-flavored chocolates with motivational messages.
2- Partnership with local stores
Godiva, a foreign chocolatier brand, collaborated with the convenience store Lawson in 2019. Together they launched the sweet pink and green duo called 'Le Japonais du Printemps' in luxurious and elegant packaging. It served as a present to bring when people gathered to view the cherry blossoms.
As a brand, you can partner with local stores to sell special Sakura-themed products. Additionally, these can come with discounts or free items to attract customers. That helps you reach a broader audience through different channels such as convenience stores, supermarkets, department stores, or even vending machines that Japanese people frequent daily.
3- Sakura-themed events
Jack Daniels is a whiskey brand based in the US. During their promotional tour across Japan in 2017, they released a limited-edition whiskey box called "Back Sakura". Only available in Japan, Jack Daniels presented a whiskey in a classy black box with a white Sakura-petal pattern. With this limited edition, Jack Daniels aimed to improve their brand recognition in Japan by attracting younger adults. Quickly it became a must-have for whiskey lovers and collectors.
You can host events and promotions during the Sakura season to increase your brand reach. By utilizing events to create an engaging atmosphere, you let your customers experience Sakura in an unforgettable way.
4- Social media marketing
Social media is one of the key drivers to elevate your brand visibility in Japan.
Using the power of social media, Coca-Cola launched its first Sakura-themed bottle in 2017. It was a success and gained even more popularity over the next few years. They adjusted the bottle to a 250-milliliter slim size. They did that so that people could take easier pictures of the surrounding cherry blossom trees while holding their eye catchy bottles.
Having a Sakura-themed product is only one part of a powerful campaign. You can see that Japanese people interact online more with their favorite brands after the launch of seasonal-exclusive products. They post photos and videos, give feedback and use hashtags related to the season that build a buzz around the brand. Collaborations with influencers and artists can also boost your brand awareness.
Read more about the importance of content localization.
5- Outdoor advertising and in-store displays
Outdoor advertising and an in-store display featuring Sakura-themed visuals are persuasive tools in your marketing kit. Starbucks follows that concept and provides a Sakura-themed atmosphere in all of its stores throughout Japan. Besides special beverages, they also offer limited-edition merchandise that boosts sales during the season. Furthermore, you can advertise in busy areas such as train and bus stations, shopping malls, billboards, tourist attractions, and more.
Conclusion
Brands have a unique chance to appeal to Japanese customers, boost sales, and raise their awareness during the Sakura season. You can take advantage of the season's uniqueness and increase brand recognition and loyalty by developing exclusive Sakura-themed products, collaborating with regional retailers for promotions, and studying the successful marketing techniques of other brands like Coca-Cola and Kit Kat.
Need help Scaling your Business in Japan?
As your local operating partner with End-2-End Solutions, COVUE can help your brand navigate Japan´s regulations and mitigate risks of market entry.