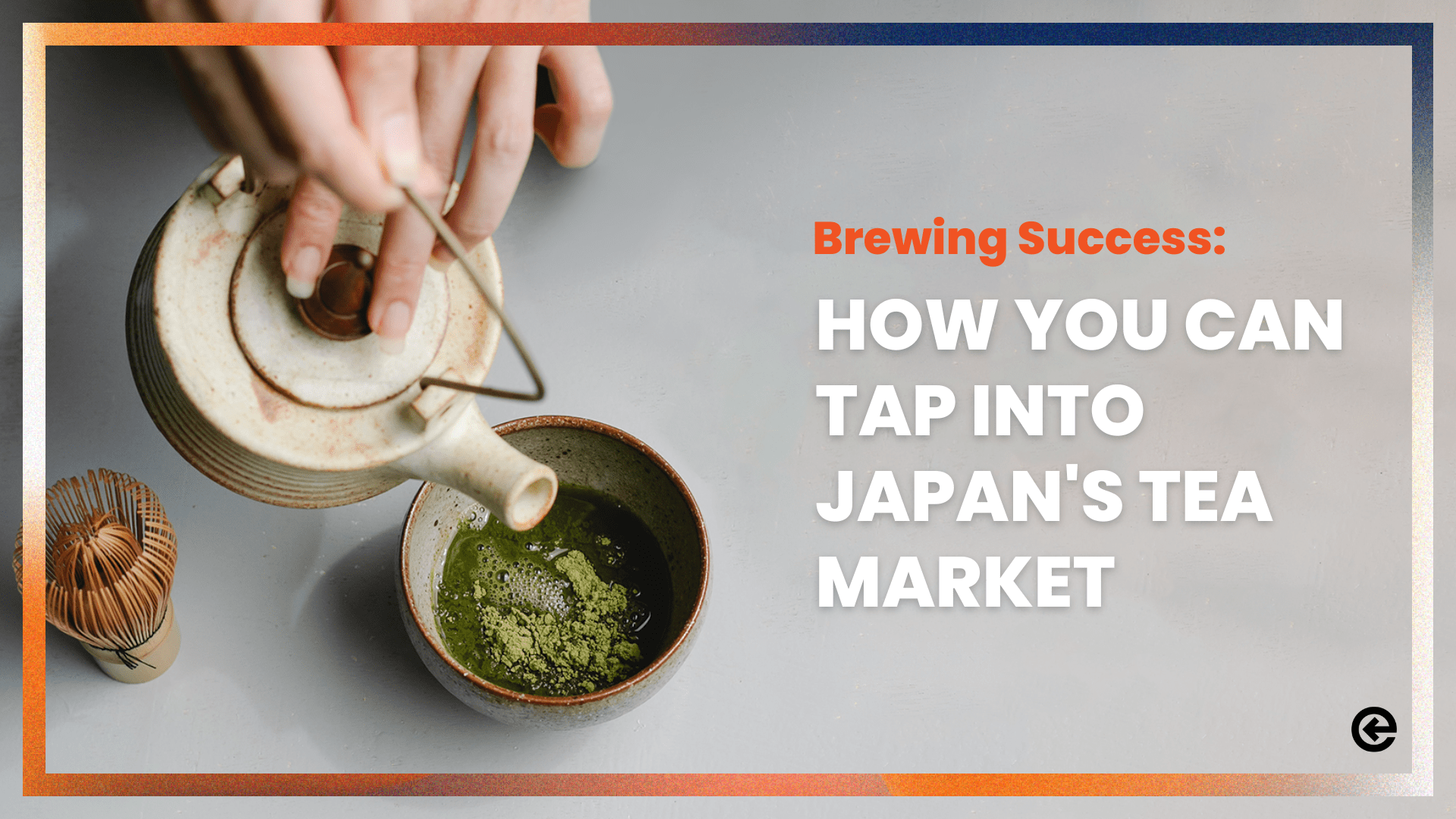 March 22, 2023
Brewing Success: How You Can Tap into Japan's Tea Market
Japanese people hone their traditions, so they do it in tea ceremonies. The tea culture is centered around Matcha, a powdered green tea that has gained worldwide popularity for its unique taste and health benefits.
At the same time, you can see Japan's herbal tea market booms with an expected CAGR of 8.5% from 2023 to 2029. Here's how you can leverage the growing tea market in Japan.
Why is Matcha famous in Japan?
Herbal teas, such as Matcha, have been enjoyed in Japan for centuries, not only because of their complex taste but also because of their numerous health benefits. It contains several nutrients and boosts metabolism, making it an excellent choice for health-conscious people. Nowadays, Matcha is still used in traditional Japanese tea ceremonies as well as in sweets and beauty products. With its rich history, unique flavor, and versatility, it has become one of the most beloved beverages in the world and laid the foundation for Japanese people's interest in tea.
Some Japanese tea products contain abundant catechins, an antioxidant that is supposed to help people reduce body fat. Herbal teas are low-calorie, healthy drinks that you can enjoy without adding sugar or milk. It is clear from the growth of the herbal tea market in Japan that consumers are becoming more interested in healthy tea products.
Japan's Booming Tea Market and its Opportunities
The herbal tea market in Japan is expected to grow vastly in the next few years. The country is known for its high-quality tea production, with some of the best green tea in the world coming from Japan. Most of its production happens in the prefectures of Kyoto, Aichi, and Shizuoka, and the export from Japan to other countries increased significantly within the last few years. The tea production in Japan has a high standard of quality control and is subject to strict regulations.
With the growing well-being consciousness among Japanese consumers, there has been an expansion in health-benefiting drinks, including decaffeinated and organic herbal tea. Premium and exclusive blends with wholesome ingredients are popular because they can improve your constitution actively.
Learn more about the trends in the food and beverage industry in Japan.
Mainly in premium supermarkets, you can find tea from foreign brands like Kusmi, Fauchon, and Dallmayr. Common herbal tea ingredients include cinnamon, dandelion, chamomile, ginger, turmeric, and blends. The tea industry in Japan is well established, with a history that dates back over 1,000 years.
For that reason, it is essential to know which opportunities you have in this market to leverage them.
1- Research the market
When tapping into Japan's tea market, it is imperative to research the market thoroughly. Therefore, you should get a deep understanding of the different types of tea products available in Japan, the target audience, and the laws around importing tea products.
2- Partner with local suppliers
Working with local suppliers and partners can help you to enter Japan's tea market successfully. Not only will you have access to valuable partnerships and high-quality resources, it can also help navigate the complex regulations and competition in Japan.
3- Identifying niche markets
A specialized or niche product that meets customers' needs can help you differentiate yourself in the market. Organic, non-GMO, or low-calorie tea products ranging from drinks and foods to cosmetics can appeal to health-conscious consumers. Premium or luxury tea products are another option to target high-end customers. Additionally, you can offer flavored sweet or savory food products or tea blends that include special herbs and spices. Furthermore, you can sell products that are tailored to specific Japanese cultural events or holidays. With unique products, you can capture various market segments and increase sales.
4- Selling and marketing online
Selling your products online has become much easier in Japan thanks to e-commerce. You can reach a wider audience and expand your customer base by taking advantage of online platforms such as Rakuten, Amazon, and Yahoo! Shopping. You can also market your products and engage with customers through social media platforms such as Instagram, LINE, and Youtube. While doing that, it is crucial to focus on the quality and authenticity of your tea products as the consumers have high expectations.
5- Working with local farmers
You can source high-quality tea leaves from local tea farmers. Not only does that ensure the product's authenticity, but it also supports the local economy. Working with local farmers can help you create new and innovative products that meet the market's demands.
6- Selling to B2B
You can target the food service and hospitality industries by supplying restaurants, cafes, and hotels in Japan. To build relationships and trust with local businesses, you may need a local operating partner like COVUE to connect you with the market.
Conclusion
Japan's tea market is an exciting industry that provides a lot of opportunities for businesses looking to expand their reach. Focusing on niche market segments, online sales, and marketing, collaborating with local farmers and partners, diversifying product lines, and branding and packaging can help you compete successfully in the Japanese market.
Grow your Business in Japan!
COVUE is committed to helping you enter the Japanese market as affordably and effectively as possible. With our End-2-End Japan Market Entry Services, we provide you with everything you might need, from compliance and logistics to product localization.