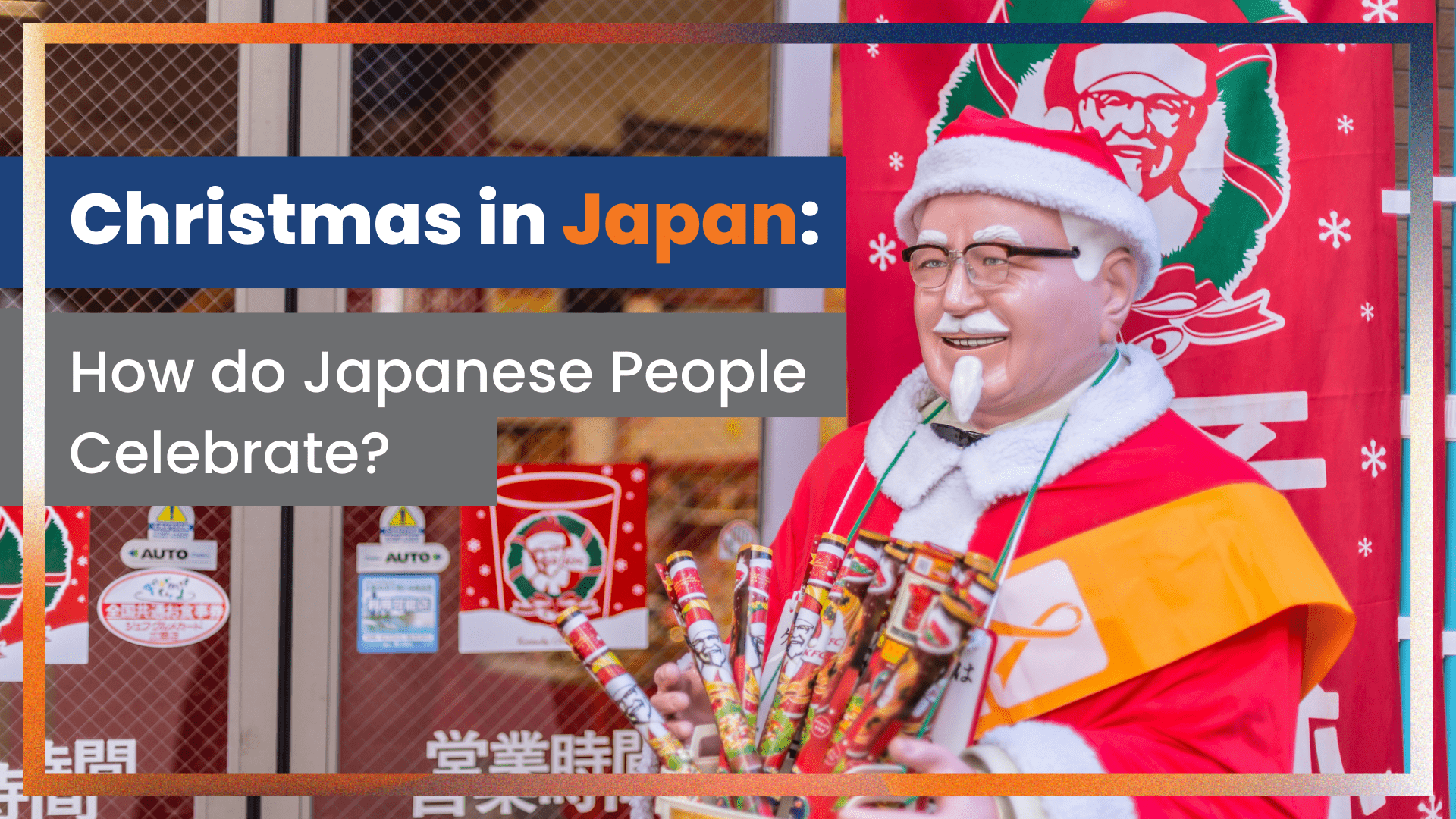 December 19, 2022
How Do People Celebrate Christmas in Japan? 
Japanese people celebrate Christmas and capture the Christmas spirit in their unique way.
 What do the Japanese traditionally eat on Christmas Day? 
Japan has two famous Christmas dishes:
1- The Japanese "kurisumasu keki" (Christmas cake) 
Starting in November, you can buy a festive Christmas cake. Throughout Japan, you will find lots of shops offering that special treat. It is a sponge cake with whipped cream and frosting that is decorated with strawberries. This cake is popular on birthdays and represents the growth of the Japanese economy after World War II.
2- KFC – Japan's typical Christmas dish 
Having Kentucky Fried Chicken on Christmas demonstrates the Japanese Christmas spirit like no other tradition. Japanese families enjoy this feast so much that KFC starts taking orders six weeks in advance. People wait for hours in line in front of the stores to receive their meals on Christmas.
Why is Kentucky Fried Chicken so Popular in Japan? 
Takeshi Okaware, the first manager of KFC Japan, had the idea of a "party bucket" for Christmas soon after the company opened in 1970. At that time, he overheard foreigners having a conversation about how they craved their favorite seasonal turkey for Christmas. In 1974, KFC Japan ran an enormous Christmas marketing campaign that led to the tradition of having fried chicken with the family on Christmas.
Creating meaningful memories through marketing can have an impact. You can grow brand equity in Japan by tailoring your content to market needs.
Read more about content localization and its importance.
 5 Facts About Christmas in Japan 
1- You will find Christmas illuminations everywhere 
You can see festive and colorful illuminations in Japan. Lights are on display in department stores, restaurants, and public spaces. The light installations invite couples, families, and people to pass by and be entertained by the lights. In Tokyo or Osaka, you can find event-based illuminations of larger sizes with audiovisual effects.
2- There is no Christmas gift-giving in Japan
Unlike in Western countries, Japanese people don't treat Christmas as a typical gift-giving day. However, Japanese couples gift each other, and young families might purchase presents for their children.
Read here what are the best gift categories to sell in Japan.
3- You can enjoy food and drinks at Christmas markets
Japanese people host German Christmas markets from the start of the winter season. There you can find beautiful tree ornaments or gingerbread cookies. Famous are the markets in Sapporo and Tokyo.
4- Japanese people do extensive shopping during the holidays
Japanese people don't buy gifts for Christmas. Instead, they purchase Oseibo and New Year presents from their yearly salary bonus. Department stores and eCommerce stores promote gift-giving with a wide range of products at discounts. Christmas decorations, Santa-themed displays, and joyful carols accompany shopping in Japan. The stores create an outstanding customer experience that eases purchasing decisions.
Read more about how you can profit from Japan's rich gifting culture throughout the year.
5- Christmas is the most romantic season of the year
Japanese couples consider Christmas as one of the most romantic days of the year, right after Valentine's Day. There are many couples on the 24th and 25th of December who have dinner at restaurants, enjoy the illuminations or shop for presents in department stores. Some families and friends gather for Christmas parties. You might also visit amusement parks such as Tokyo Disneyland and Universal Studios, known for their festive illuminations and parades.
Conclusion 
The Japanese Christmas spirit differs from that of other countries. Christmas cakes, special KFC meals, and an emphasis on illuminations, decorations, and events characterize the festive atmosphere. Exceptional experiences are more important than gifts at Christmas. As a seller, it's crucial to keep an eye on cultural differences to optimize your marketing efforts.