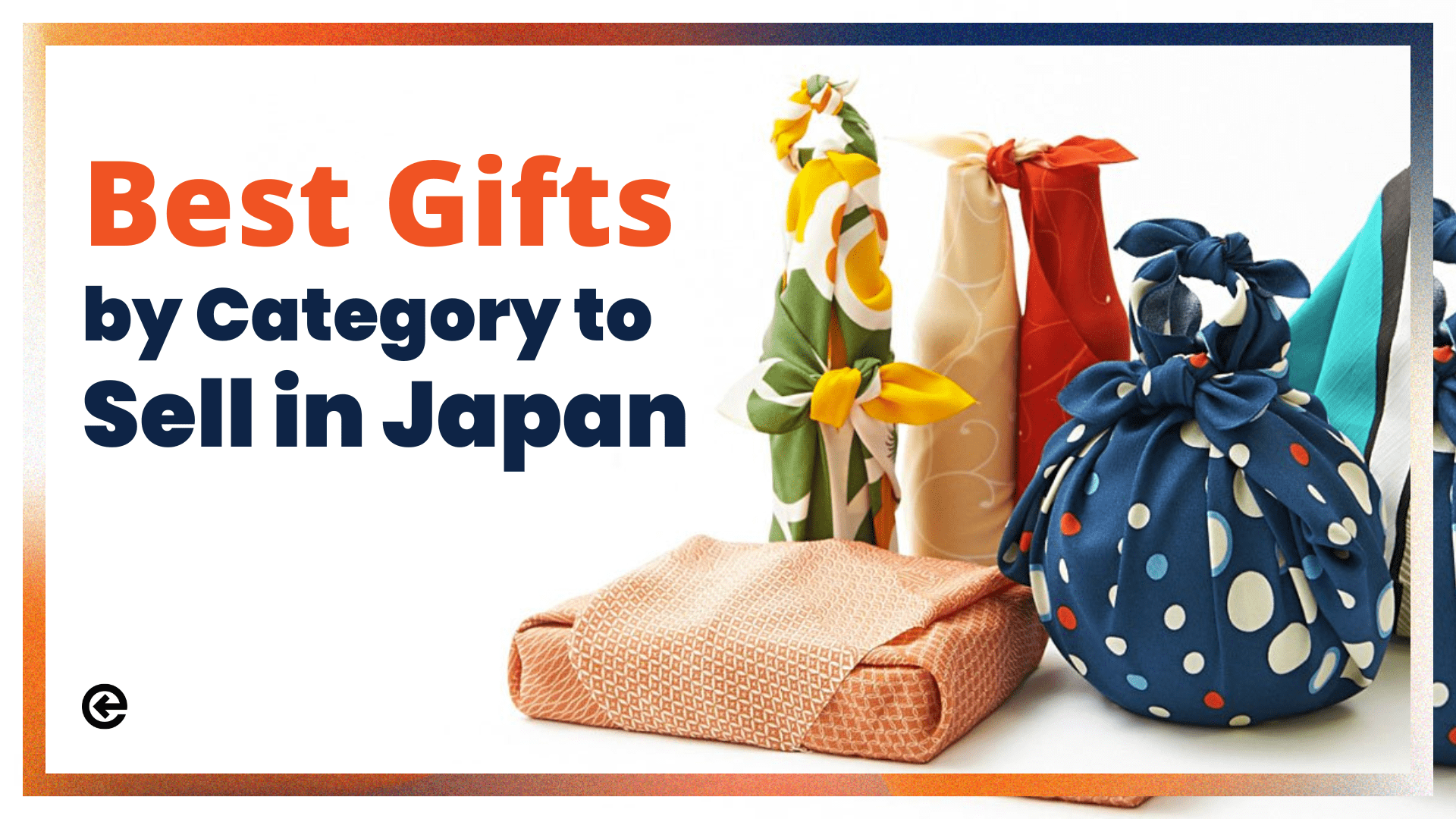 December 12, 2022
Best Gifts by Category to Sell in Japan
Receiving gifts is as exciting as buying a present for someone. In Japan, gift-giving is an undeniably large part of the culture and follows its own rules. As a foreign seller, it is crucial to take a look behind the curtain and turn it into a selling opportunity.
Let´s explore what your Japanese customers like to buy for family, friends, or colleagues.
1. Apparel
Japanese customers buy clothing like sweaters, cardigans, pajamas, bags, and accessories such as jewelry or watches. Family and friends appreciate thoughtfully selected gifts for personal occasions such as birthdays or Christmas. In particular, luxury items are high in demand, so you can offer them as a seller.
2. Food&Beverages
Foods and drinks are the all-time favorite present to give in Japan. Tea, alcohol, fruits, and other foods are popular whether it is a private or business-related gift-giving situation. You can find a wide range of specialized gift shops in department stores or online. You can buy perfectly-grown fruits for up to 300 dollars or more as a present that will impress your business partners.
3. Souvenirs
Japanese travelers don't return home empty-handed. They will buy so-called Omiyage for their family, friends, and colleagues. These souvenirs should be typical for the place they have been to. Prices can go up to 40 dollars or more. The commitment to the tradition is so deeply rooted that there are shops online, at the airport, and at train stations with souvenirs from all over the world. If you forgot to purchase a gift for someone, you can find it here.
As a foreign seller, you can leverage sales with these traditions. Read more
4. Confectionery
Sweets and snacks are a popular choice as presents. Local and international cakes, cookies, chocolate, and other confectionery are often sold. They are suitable for business and personal occasions and are available in different price ranges. The Japanese are fond of gift boxes with a good selection, whether they are bought online or offline.
5. Cosmetics & Personal Care
The Japanese are known to take good care of themselves, whether it is through skin care, spa kits, massage tools, or something else. Family and friends appreciate these kinds of gifts for birthdays, Christmas, and other celebrations. You can find holiday-themed gift sets online and in brick-and-mortar stores. As a foreign brand, you might consider selling cosmetics and personal care products through eCommerce.
Find out how you can expand your eCommerce business to Japan.
6. Household items
In Ochugen and Oseibo, people like to give household ware as presents to their family, friends, or colleagues. Furthermore, Japanese people gift these products when they visit someone´s home for the first time. Favorite products include hand towels, indoor decor, cutlery sets, and more. Useful goods of this size are convenient because Japanese homes are smaller than Western ones.
5 Questions on How Japanese Customers Decide on a Present
1. Who is the recipient?
The most important aspect of choosing a present is to make sure it impresses the recipient without offending him. For that reason, consumable products such as food, confectionery, and beverages are common as they aren´t long-lasting.
2. What is the occasion?
For every occasion, you will find a suitable gift in Japan. Whether it´s a private or business matter, the Japanese market offers a variety of options offline and online.
3. What is the price?
Gifting several people in one group at the same time requires smart budget planning. For example, the price of gifts typically given on business occasions reflects the relationship you have with the receiver. Therefore, it shouldn't be too cheap or too expensive.
4. Where and when can they buy it?
In Japan, you can buy presents online and offline all year long, which makes gift-giving convenient. Various shops offer pre-made gift sets for all occasions.
5. Is the product appealing?
A gift in Japan is of high quality. However, Japanese people often place a higher value on packaging than on the gift itself. To succeed in the Japanese gift-giving market, you need to design products that meet the needs of the Japanese market in terms of presents.
Conclusion
Selling gifts in Japan can be a business opportunity depending on your product category. Japanese people are used to purchasing suitable presents at affordable prices everywhere. Whether it's for business or private events, giving presents is a custom that continues throughout the year.
Interested in tapping into the Japanese market?
Our bilingual teams at COVUE align your business goals with the conditions of the Japanese market. With our customizable End-2-End Japan Market Entry Services, your business can thrive the way you desire.
Our services include:
Importer of Record
Market Research
Market/ Brand Localization
Business Development
Post-sale support
E-commerce
and more.