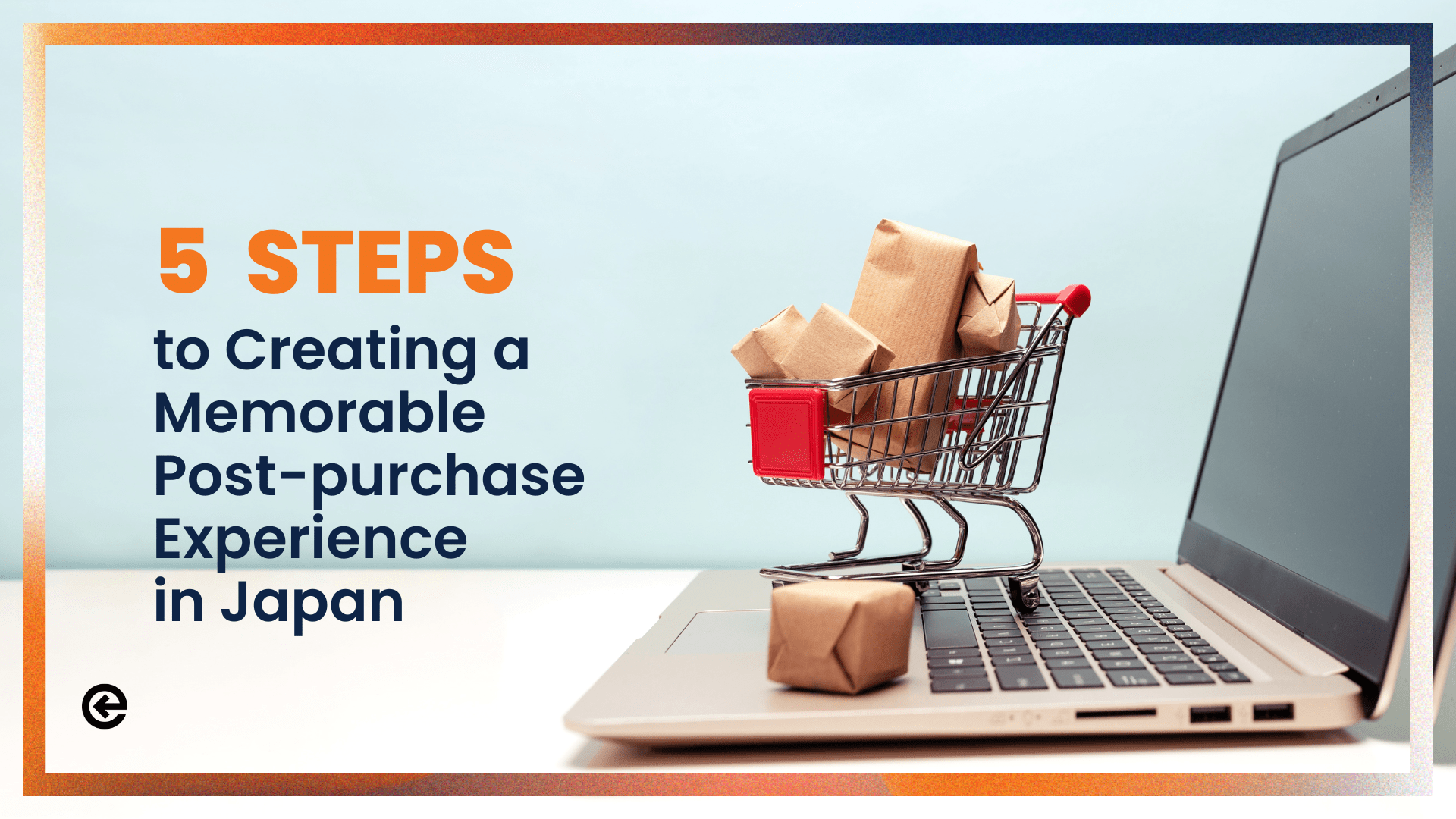 November 25, 2022
5 Steps to Creating a Memorable Post-purchase Experience in Japan
A phenomenal post-purchase experience is your chance to stand out from the fierce competition in Japan. As a foreign brand, you can utilize it to leave a great impression on your customers.
That can result in:
More growth in sales
More loyal customers who will buy again
More powerful word-of-mouth marketing
What Is the Post-purchase Customer Experience?
It involves every form of interaction that your customers have with your products and brand after the sale.
Let´s discuss how you can design an effective post-sale experience.
1. Offer Exceptional Customer Service.
Japanese customers expect a high level of customer support from you. After the sale, they might have questions about your product, its usage, or your brand. Amazon Japan only offers basic customer support that is not adapted to your brand.
The most effective way to handle technical and product-related questions is to set up your customer support with Japanese-speaking personnel. In that case, customers can contact you easily via phone, mail, or chat. All questions can be quickly answered. Your customers will feel valued and trust your brand. Despite that, you encourage them to become repeat buyers and generate more revenue.
2. Be Proactive and Communicate With your Customers.
Japanese customers prefer to receive information about products and sales through email. This is a powerful channel to build a personalized customer experience online when you are a foreign eCommerce brand in Japan. Post-purchase emails in proficient Japanese can contain more than just updates about the order.
Saying Thank-You for a purchase, educating them on your products, promoting specially tailored offers, or asking them for feedback helps you to increase sales, customer loyalty, and brand equity. They will feel assured that they made a good decision to buy from you.
3. Get Reviews and Feedback.
Japanese consumers are research-savvy and trust peer reviews more than expert opinions. Asking for reviews and feedback after a sale improves your customer journey. Additionally, you can leverage user-generated content like reviews to support the buying decisions of your customers. Japanese society acts more group-oriented. That's why you can nurture your brand´s acceptance by placing positive peer reviews in front of your customers.
4. Provide a Point and Reward Program.
Customers in Japan appreciate loyalty programs that reward them after a purchase is made. Amazon Japan and Rakuten offer a point and reward program you can participate in as a foreign eCommerce seller. You can also develop your own program as you grow. Through that, you can build long-term relationships and a community with your consumers, turn them into repeat buyers, and strengthen your brand. For example, you can reward customers when they watch your product videos, frequently purchase, or follow and share your content.
5. Improve Your Returns and Repair Process
Clear policies about return and repair services are part of a satisfying post-purchase experience. It´s important to handle returns and repairs properly. That helps you to earn the trust of your customers. For instance, Amazon Japan requires its sellers to provide a return address within Japan. If you can´t provide a return address or repair service in Japan, you will need a provider.
Here's all you need to know about returns and repairs in Japan.
Conclusion
Summarizing these steps, it´s all about satisfying your customers at every touchpoint of their journey. By directly communicating after the sale, offering outstanding customer support, incorporating loyalty programs, improving your return and repair process, and demonstrating your commitment, you can keep your customers satisfied. They will buy again and cherish your brand and products. This can enhance their buying choices and encourage them to recommend your products to family and friends.
How COVUE Can Help You
Going the extra mile with your customers´ post-sale experience can maximize your brand´s reputation, get more sales, and attract repeat buyers. We at COVUE are experts on the Japanese market and its customers. With our End-2-End Japan Market Entry Services, we can streamline your business in Japan in terms of Ecommerce, the set-up of an excellent customer experience, Importer of Record, and much more.