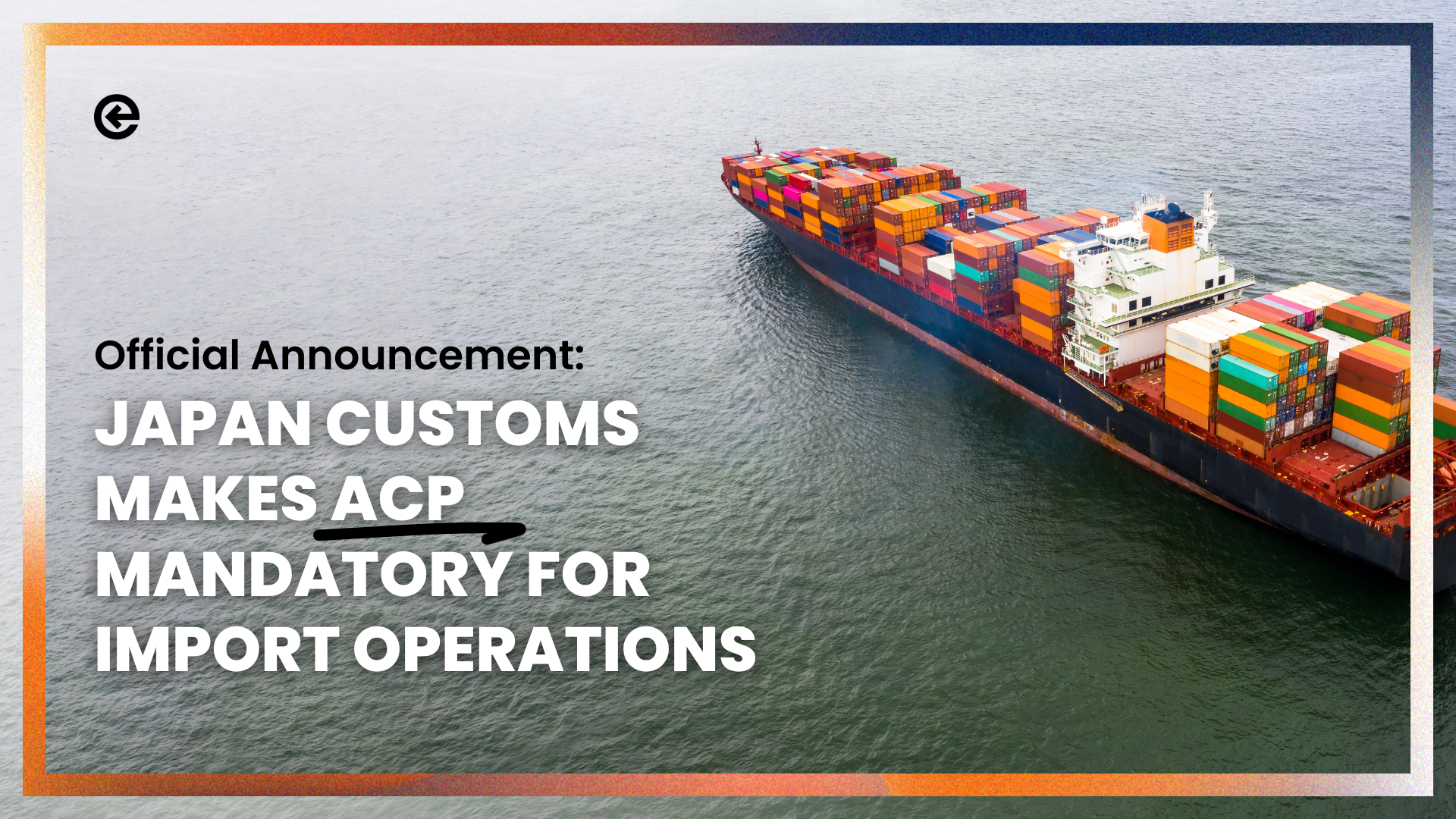 September 5, 2023
Japan Customs Makes ACP Mandatory for Import Operations
If you're a foreign business importing goods into Japan without a local presence, you'll want to be aware of significant changes coming into effect this October 1, 2023.
Previously, companies could use an Importer of Record (IOR) for compliant and transparent imports into Japan. However, now they are mandated to appoint an Attorney for Customs Procedures (ACP). This significant update aims to improve the accuracy of duty payments and streamline customs procedures.
Why Is This Change Important?
In recent times, there has been a surge in irregular import activities on e-Commerce platforms like Amazon and Rakuten. These issues often involve forwarders and customs agents inaccurately declaring themselves as the importers, which leads to undervalued import prices. To tackle this, Japan Customs now mandates that non-resident importers employ an Authorized Agent for Customs Procedures (ACP) to guarantee adherence to proper import procedures and legal compliance.
Why COVUE Should Be Your Go-To ACP?
Now for the good news. As you adjust to these changes, you don't have to do it alone. COVUE is not just a seasoned Importer of Record; we are also a fully-qualified Attorney for Customs Procedures (ACP). Partnering with us ensures a seamless navigation through the labyrinth of evolving Japan's customs regulations.
How to Get Started With Us?
Step 1: Initiate Contact
Begin by reaching out to us via our Contact Form. Share pertinent details such as the website or catalog of the products you're planning to import, along with the estimated volume, variety, and frequency of shipments to Japan.

You can also register your account directly by clicking here: COVUE IOR
Step 2: Customized Quotation
After receiving your inquiry or registering online, we will provide a tailored quote and a comprehensive scope of work tailored to your needs.
Step 3: Agreement and Onboarding
Once you approve the quote, we'll formalize our partnership through a service agreement.
Step 4: Document Preparation
Next, we move onto readying all necessary documents for the ACP application. This includes drafting a power of attorney, verifying your company's registry certificate, and determining the customs valuation formula.
Step 5: Engaging with Customs
After assembling all the necessary documentation, we'll initiate talks with the Japan Customs Office to secure your ACP approval.
Japan aims to make commercial transactions as transparent and accurate as possible. If you're an overseas company relying on forwarders or customs agents for imports, it's crucial to understand the role of ACP and IOR after this recent update by Japan Customs. Click here to know in detail and why COVUE should be your go-to partner. Moreover, you can reclaim the 10% consumption tax levied at the point of import, provided tax returns are accurately filed.
Don't let these changes catch you off guard. Let us safeguard your business interests in Japan.
Sources: Japan Customs