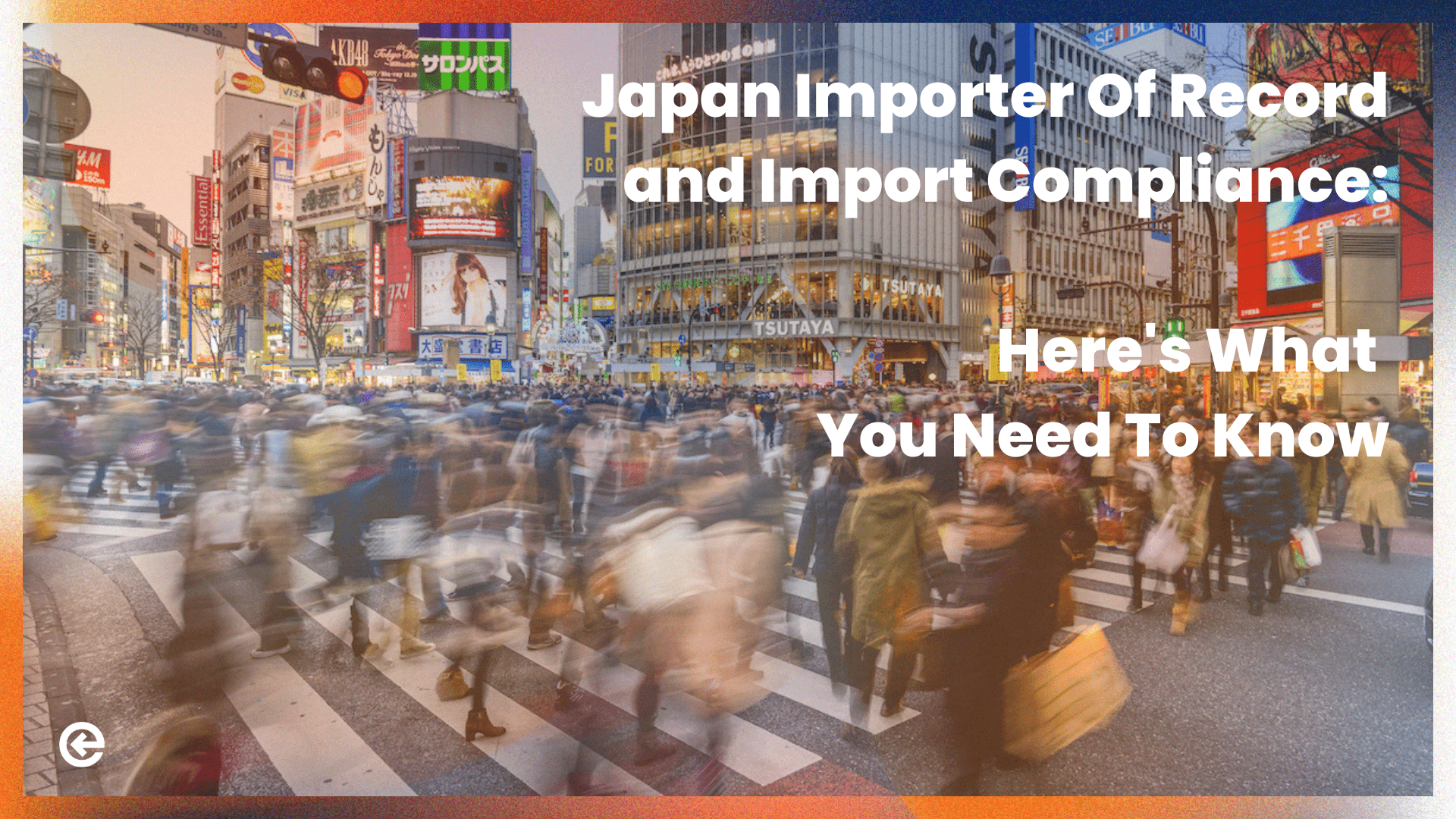 September 6, 2022
Japan Importer of Record and Import Compliance: Here's What You Need To Know
Japan is not only an advanced and leading country in today's world but also a safe and convenient environment to do business. If you are thinking about expanding your business, Japan is a game-changer for you. Aside from in-depth market research for your products, it's also important to think about the best way to import to Japan.
The key to entering Japan successfully is to understand the significance of an Importer of Record and import compliance.
What Is Japan Importer Of Record?
Japan Importer of Record is a Japanese resident or company with an import license who handles all taxes, customs charges, and other compliance issues.
Responsibilities Of An IOR Company
Having an IOR in Japan is your responsibility while the IOR itself has to ensure that everything import related complies with Japanese law. Therefore the IOR will submit all the mandatory paperwork for you. Besides that, the Importer will…
… check if compliance with the products being imported.
… pay consumption taxes and duties at the customs.
… deal with customs clearance and possible issues.
During the import process, all accountability lies in the hands of the IOR at customs.
Customs And Compliance Considerations
Getting to know Japanese import requirements and compliance documentation is crucial when doing business there. No matter where you are exporting from, for entering the Japanese market you need to abide by the principles of the country. Your Importer of the record must secure compliance at the Japan customs. This includes the three following steps:
1- Classification and identification of the imported cargo.
2- Determination and payment of tariffs and duties.
3- Submitting a commercial invoice, packing list, signed bill of lading, or an air waybill.
Each item in your shipment must be described in the commercial invoice in as detail as possible.
Your packing list should contain the exact contents and measurements of each container, as well as their gross and net weights. Besides that, you also need to be aware of the fact that your IOR has to submit additional paperwork sometimes depending on the product category.
For example, your IOR is required to get approval from the Japan PMDA in advance to import cosmetics.
Learn more about the different import categories in Japan
There are items that cannot be imported to Japan, like narcotics, firearms, explosives, counterfeit currency, and more. Other goods like hazardous materials, animals, plants, perishables, or in some cases high-value articles are demanding not only an IOR but also further paperwork. Additionally, import quota items require an import license, which is usually valid for four months.
If you have questions related to your product category, feel free to explore our Frequently Asked Questions section.
Conclusion
To successfully enter Japan, you need a partner who will guide you through the complexity of customs and compliance. Having a trusted Japan IOR company is the best way to keep the import process as smooth as possible.
COVUE – Your Reliable IOR Partner in Japan
COVUE is your local Japanese IOR partner that supports your market entry into Japan. We know how to deal with compliance and customs. No matter what your product category is, we will help you document it appropriately and manage compliance, tax payments, and more.
Over 95% of our licenses apply to food, cosmetics, electronics, and medical devices (class I-III), so you can be confident that we have your category covered. We set up an online IOR system to simplify your market access to Japan.